The last time I created a Christmas wish list was around the Polly Pocket and Doodle Bear era, so I'm a little out of the loop in regard to the hottest toy commodities of 2019… but it's no secret that today's children have started to go a little over the top with their requests.
This ridiculously extravagant list from one 7-year-old girl exemplifies that quite well:
After her dad hilariously annotated her list with ponderings of what something like "a little thing that can turn into anything at any time" could POSSIBLY mean in real-world terms, the lavish list quickly went viral.
Just to give you a little dose of his hysterical rant, here ya go:
"What am I, Galactus? Do you understand the catastrophic universal implications of possessing a shape-shifting, time-traveling device?…You cannot be trusted with this at age 7. If such a thing existed and were affordable, I wouldn't have children… There's a reason that we have the laws of physics in place. And you expect this thing to be portable as well? You cannot have this."
But dad wasn't the only one fired up. Though his annotations were rather comical, it couldn't help but also stir a feeling of sadness and disappointment in one family who hadn't forgotten how simple and pure a Christmas list used to be.
A letter by a 7-year-old boy named Homer Mellen had been preserved by the Mellen family for decades, and they decided to share it with Good Morning America in response to the hype surrounding this little girl's list.
Now, take a step back in time, and read what letters to Santa once-upon-a-1915 looked like: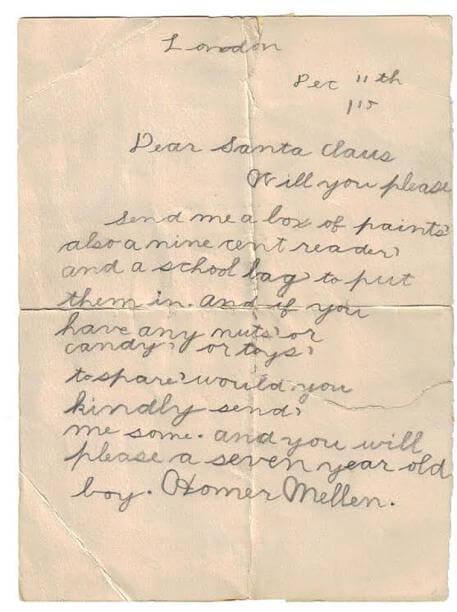 It reads:
Dear Santa Claus,

Will you please send me a box of paints, also a nine cent reader, and a school bag to put them in. And if you have any nuts, or candy, or toys to spare, would you kindly send me some. And you will please a seven year old boy.

Homer Mellen
Wow. How refreshing and darling is that? The simplicity and sincerity in his requests stand in stark contrast not only to 'little miss princess' above, but to so many kids in today's society.
And sadly, it's not entirely their fault.
Our culture has encouraged them to pursue the American Dream, to believe that anything they want they can attain, and that more & bigger is always better.
So we can't necessarily be surprised when a 7-year-old girl asks for 1,000 bucks, ALL of the Beanie Babies, every color North Face jacket, and even "a little thing that can turn into anything at any time."