Moms are some of the absolute strongest, toughest and most inspirational people on earth, and Crystal Brown is one of them.
Crystal Brown
The 33-year-old mother of two was diagnosed with rare Guillain-Barre Syndrome—a life-threatening disease in which the body's immune system attacks the nervous system.
It robbed her of her voice, and ability to walk and eat. She was put into an induced coma for seven days, before leaving many of her muscles unable to function.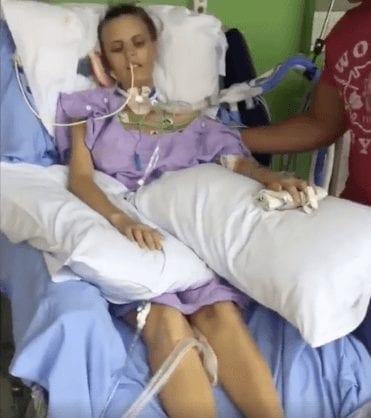 In the 10 grueling months that followed, Crystal's boyfriend, Joseph Papa, captured intense video footage of the incredible mama's journey. Viewers witness everything from Crystal learning to walk and talk again, to everyday tasks like learning how to put milk back in the refrigerator.
In a video montage he shared on Facebook—that has since gone viral—Joseph celebrates the "highs" of Crystal's journey to recovery, and looks back on the "lows"—the many needles, tests and even losing her five-year-old son in a custody battle while she was fighting for her life.
Joseph said he made the video as a way to thank and appreciate all of those who have helped Crystal and her family through the journey so far.
A close friend has launched a Go Fund Me, which has garnered more than $10,000 in the past week.
Grab your Kleenex, and help spread awareness about GBS and this #StrongMom.