May 28, 2016, is a day that will go down in history.
It was the day that a 3-year-old boy climbed into Harambe's cage at the Cincinnati Zoo, thus resulting in the fatal shooting of what has become the world's most famous gorilla.
It was also the day that America officially LOST. Its. MIND.
The nation mourned the loss of the animal they never knew existed just a day prior.
Elaborate shrines were built.

Photo Credit: Reddit
Taylor Swift murals were vandalized in Melbourne, Australia, in the name of our black furry friend.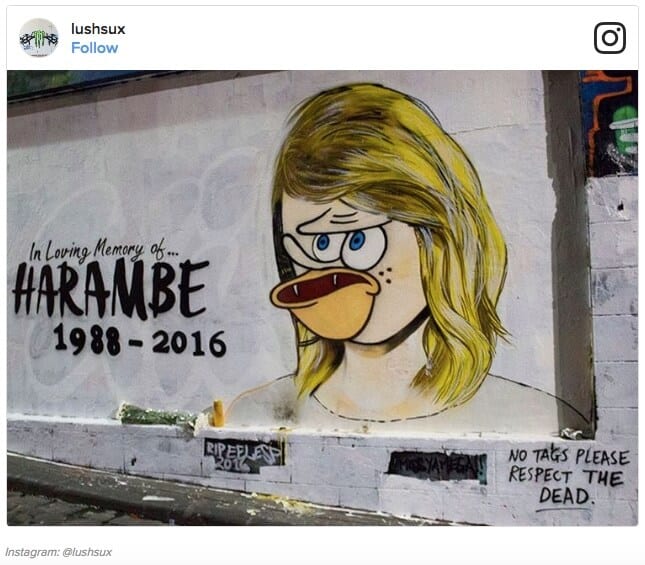 And yes, nine months after his death, a hot Cheeto resembling the shape of Harambe sold on eBay for exactly $99,900.

Screenshot:CNBC.com
According to a report by CNBC, "The listing attracted 132 bids before closing at 3:45 a.m. on Feb. 7. The item was sold from Burbank, California, and even came with free standard shipping."
I wish I was joking. 
$100K. Half the price of a tricked out Lamborghini. Nine months after its death, this is how greatly we still value a gorilla.
The parents of the young boy were relentlessly shamed by online attackers who said the boy should have been left to die in place of this poor, helpless gorilla. They probably still struggle to walk out in public for fear of getting stoned.
And this, my friends, is the state of a Christian nation that values the sanctity of human life?
Now, there's just something I have to get off my chest…
Just the other day, I happened across this article titled "To Protect Rhinos, This National Park Just Shoots People (50 Poachers Killed So Far)."
What the WHAAA??!
The words practically leapt off the page and slapped me in the face. All of this hype about a dead gorilla almost a year later, while this gets approximately zero coverage.
WHY IS NOBODY TALKING ABOUT THIS??
(And before I start my rant, please allow me to note the irony that I first saw this on Bored Panda, a site whose trademark name indicates that this is the silly crap you look at when you're bored and have nothing better to do.)
Apparently Kaziranga National Park has a world-class reputation for two things: conserving rhinos and killing people.
One hundred years ago, there were only a few Indian one-horned rhinoceroses. But now, thanks to park guards being encouraged to shoot poachers after the rhino horns that are more pricey than gold, there are over 2,400 in the park.
Thus far, 50 people have been shot and killed.
And though the park is targeting poachers, they are not the only ones being murdered. We're also talking about innocent lives here—anyone who accidentally sets a toe over the line into the rhino park that is NOT marked by signs or fences, mind you.
Allow me to humanize this for you even further.
Kachu Kealing and his wife live in a village that borders the national park. According to a report by BBC, one day, their son Goanburah was shot and killed by the guards after walking into the park. The boy was tending to the family's two cows, and Kachu believes one of them wandered into the forbidden area. Their son, who suffered from severe learning disabilities, likely did not recognize the danger he was in when he went to chase after it. After all, their property practically merged with the park, and there were no markings to even warn him he was trespassing. It's a mistake anyone could have made.
Nonetheless, park authorities shot him after he didn't respond to a single warning. But how could he?
"He could barely do up his own trousers or his shoes," said his dad. "Everyone knew him in the area because he was so disabled."
And the worst part?
Justice will not be served. Due to the high level of protection surrounding park guards, Kachu lost hope that there's any legal action he can take.
"I haven't filed a court case. I'm a poor man, I can't afford to take them on," said the heartbroken father.
The only physical representation that he has left of his son is a blurry photo of his face that the rest of the world has long forgotten, or worse yet, never even heard about.
WOW.
If that doesn't just tear your soul right up, I don't know what will. But these are the stories that go unnoticed in our small, sheltered American culture. We create shrines for gorillas and dish out $100K for a Cheeto, while a poor man in India can't even afford to go to court to seek justice for the brutal murder of his son over a precious rhinoceros.
So I must pose an unpopular question.
As a largely Christian culture, when we talk about advocating for the sanctity of human life, do we really mean our white, conservative, Bible-belt-wearing fellow Americans?
Do we mean the people who look like us, talk like us, hold the same values as us, and live in the same media-soaked society that tells us what to care about? (Like gorillas, for the sake of example)
Or do we mean the gay people who were brutally murdered at Pulse, the Syrians who are being bombed, the Turkish who are being torn apart by terrorist attacks, and the Indians who are being killed over RHINOS?
Just how pro-life are we?