For little girls, nothing beats being made into a princess. The sparkly gowns, the golden crowns, the long, flowy hair.
Well for many little cancer fighting princesses, the one component they're missing is the hair. But that doesn't mean they want to be left out of the whimsical fun.
That's what gave Holly Christensen and Bree Hitchock a marvelous idea to add a little magic back into their lives amidst their chemo battles.
The two decided to create "The Magic Yarn Project." Their mission is "creating soft and beautiful yarn wigs for little warriors who are bravely battling cancer."
What started as an intention to make a few dozen wigs, has exploded into a full-blown project as the demand for the precious princess wigs has been coming in from hospitals everywhere.
And when you see these amazing wigs, you'll know why. They aren't your everyday crochet project, but rather, manes of colorful glory that transform these little girls into Disney royalty.
They've done everything from Elsa…
to Anna…
to Rapunzel…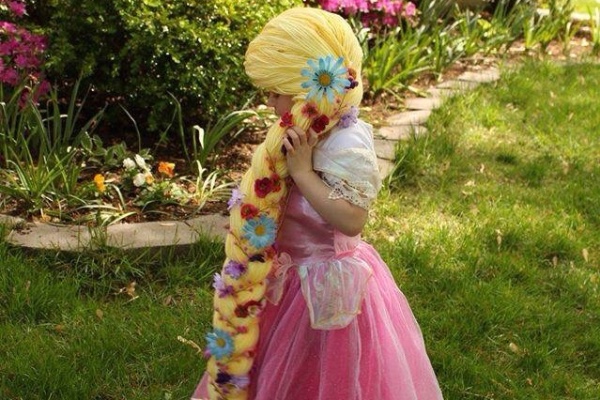 And even Ariel!
The journey all started when Holly, a former cancer nurse, crafted her first hand-made Rapunzel wig for a friend's daughter. Before she knew it, she had a waiting list for the high-demand wigs. Everyone wanted one.
What's amazing is that these wigs are not only beautiful, but practical as well.
"The chemotherapy leaves their skin very tender and sensitive," Holly told ABC News.
The special wigs are made with incredibly soft material with a beanie underneath, so the patients don't have to put up with the scratchy insides typical of most wigs.
Holly and Bee are currently raising money for the supplies needed to make the wigs, which they give away at no charge to the patients. They've currently raised over $16,000 on their GoFundMe page, just $4,000 shy of their goal!
"To bring a little bit of magic into such a difficult time in their life is so rewarding," said Holly.  "It's almost equally been so rewarding and magical to meet people who want to help."
Share their story and spread the magic!