It's been just over a year since Nebraska couple Matt and Melissa Graves took a family trip to Disney World that would forever change their lives.
While vacationing at "the happiest place on earth," the couple's 2-year-old son, Lane, was snatched by an alligator at a beach area near Disney's Grand Floridian Resort and Spa.
His parents watched the horror unfold, as the animal dragged Lane underwater. Matt even tried to wrestle his son away from the alligator, but to no avail.
The little boy's body was found in the water the following day after relentless searching.
This week, Disney World unveiled a gold and blue lighthouse sculpture near the Seven Seas Lagoon beach, announcing that it has been constructed in Lane's honor.
"We find comfort that so many people continue to remember our sweet boy, Lane," the family said in a statement, "and we believe the lighthouse stands as a beacon of hope and support for families in the depths of despair. We will continue to honor Lane and preserve his spirit through the Lane Thomas Foundation."
Last year, the Graveses announced that they would not be pursuing a lawsuit against Disney, and would instead focus their energies on keeping their son's spirit alive through sharing with others the "unimaginable love Lane etched in [their] hearts."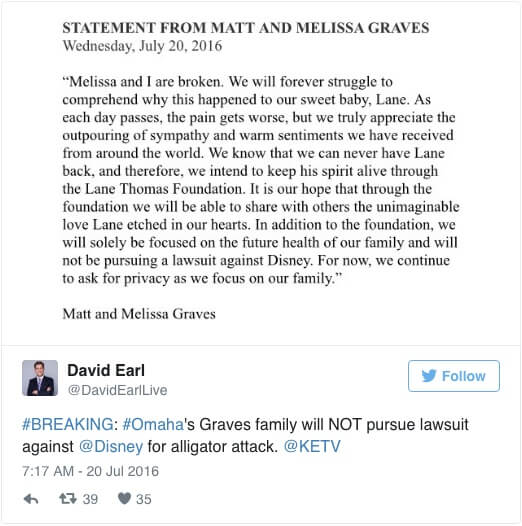 It seems they have done just that.
In the year since their son's death, the Graves family effectively launched the Lane Thomas Foundation, which provides financial support to families with children in need of organ transplants at Omaha healthcare facilities.
Its mission is to be "A Beacon of Hope, a Light of Love."
Disney hopes the lighthouse sculpture—the chosen symbol of the memorial nonprofit—will "help spread awareness" about the foundation, and continue to be a symbol of solace in remembering Lane.