These days, it's more common than ever for kids to have two different families. With divorce rates at an all-time-high, kids are often stuck in a sort-of "love triangle."
Half of the week is spent with mommy, and half is spent with daddy. You have two houses, two bedrooms and two different places you call home.
As if that isn't enough for a kid to balance, it's not uncommon for mommy and daddy to find new partners, creating a whole new dynamic—literally having TWO families.
But a new viral photo is taking the Internet by storm, setting a praise-worthy example of "co-parenting done right."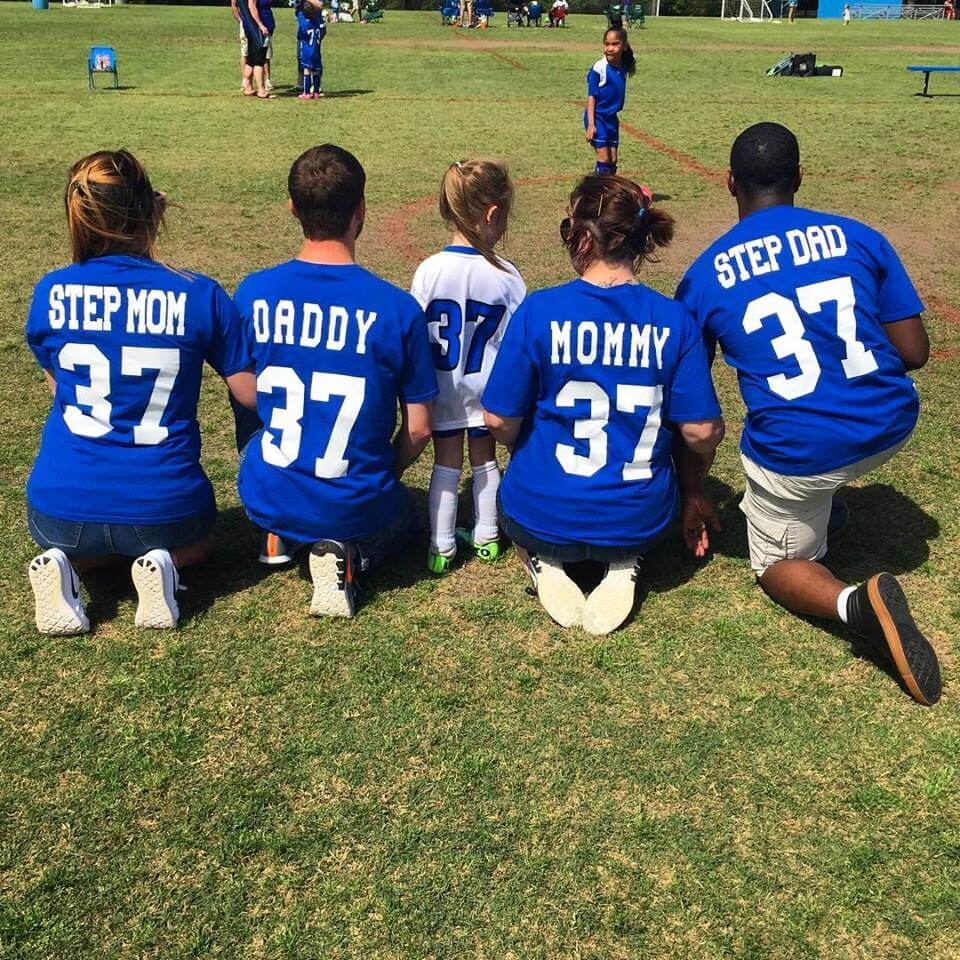 The photo, posted by Emilee Plaayer, shows four adults sandwiching a little girl in a soccer uniform. Her name is Maelyn.
Maelyn's parents, Clara Cazeau and Ricky Plaayer, are directly next to her wearing jerseys that read "mommy" and "daddy." To Clara's right is her husband, Alex, and to Ricky's left is his wife, Emilee.
Though the couples make up two families, Maelyn is the reason that they work everyday to become just ONE family.
With the photo, Emilee wrote:
"Because of us, I will never believe co-parenting can't work! I KNOW through experience it CAN WORK! Choose to do what's best for your child and everything will just fall into place."
Their combined family is not traditional, but common. Together, the two couples work hard to make their shared daughter's life as balanced as possible, and each of them shares their own special bond with this sweet little girl.
"We do all birthdays together for Maelyn," Clara said in an interview with Huffington Post. "We also go to each other's birthday dinners with their own families, we do holidays together, we go to one another's houses, we are literally always doing things together."
Maelyn with her mom, Clara, her stepmom, Emilee, and her step sister, Everlee.                                                   Clara Cazeau
At the end of the day, the most critical thing is for Maelyn to know how much she is loved and supported by all of the parental figures she's surrounded with.
Clara encourages other families in their position, saying it's not easy, but it's worth it:
"Let go of any past feelings you may have and make it work for the sake of the child. Stay strong. It is work every single day to keep this going."
It's beautiful to see two families coming together to be ONE "home" to the little girl they love.