While the odds of having a girl or boy may appear to be 50/50, the Settle family would beg to differ.
After 137 years of giving birth to nothing but boys, they basically tossed away all hope that the double X chromosome could come their way. All things pink, frilly and Disney-princess had been stashed away in an ancient box long-forgotten to be replaced with superheroes, Legos and Tonka trunks.
So when mom of three sons Kelen Settle found out that she was pregnant, it was a no-brainer that she was going to have another gender reveal party in that pastel blue color she'd come to know so well.
"I just assumed I was going to have another boy," said Kelen—who was knocked entirely SPEECHLESS when she instead popped open a box bursting with bubblegum-pink balloons.
Being the only girl born into the family in nearly a century and a half, the Settles knew their baby girl would need a special name, fitting for her unique role in a house teeming with testosterone.
They decided on "Carter."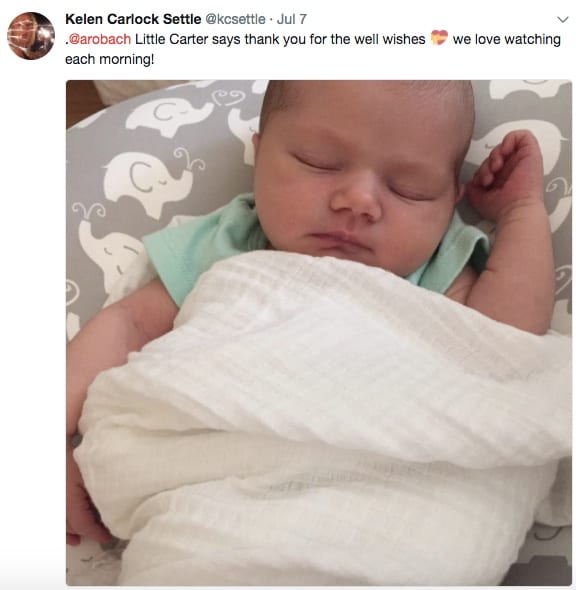 "She's going to have to be strong with all the men she'll deal with in the Settle family," said her father, Will Settle, explaining that the name Carter is "really strong" and one that "you don't hear every day."
Their friends in Bluffton, South Carolina, were all too familiar with the Settle's 137-year streak of sons, so they decided they needed to do something pretty extravagant to mark the momentous occasion.
Shortly after Kelen gave birth to their healthy little princess, Will got an unexpected call from a co-worker who said he had yet another surprise awaiting them—on the highway, of all places.
Suspicious of the location, Will was quite curious as to what shenanigans his friends had up their sleeves…but nothing could have prepared him for what he saw when he got there.
Since Settle is the director of sales for Marlin Outdoor Advertising, the owner decided what better way to welcome his little girl into the world than with a massive billboard advertising her grand arrival.
Sure enough, gracing the side of the highway was a 12-foot by 24-foot billboard reading "Welcome to the world Carter Louise Settle."
Family stunned with billboard announcing birth of family's first girl in 137 years: https://yhoo.it/2tQLkdb

Posted by Good Morning America on Thursday, July 6, 2017
Within minutes, Will's phone was already blowing up with more than 15 texts and calls from excited friends who passed the hard-to-miss roadside announcement.
"It's just eye-catching," said one Bluffton resident who lives right next to Carter's billboard. "That face: She is cute. And that name!"
"When I first saw it, it was an 'Oh my God' moment,'" said Will. "It is so pink [and] so large. It's pretty obnoxious, I hate to say. It is so in your face, you wouldn't believe it."
One thing's for sure, NOBODY's gonna forget the day that the beautiful "Carter Louis Settle" made her debut on planet earth.

My dear, you are already "LARGER than life."