George Michael reportedly died peacefully in his sleep on Christmas day at age 53.
"It is with great sadness that we can confirm our beloved son, brother and friend George passed away peacefully at home over the Christmas period," his family shared in a public statement.
While his passing was tragic and mourned by many, there is also a pretty beautiful reason to celebrate this man's life, particularly a side of him that few knew about while he was alive. Though the '80s pop legend and founding member of Wham! was famous for hit singles like "Wake Me Up Before You Go-Go" and "Faith," there's one aspect of George's life that remained hidden, until now.
The British singer was actually a big-time philanthropist, but he made sure to keep his giving on the down-low. George wasn't looking for additional fame for his generosity; he merely wanted to make the world a better place, one person at a time.

From big charities to individuals in need, George's financial contributions were wide-ranging. He quietly donated to Childline, Macmillan Cancer Support and Terrence Higgins Trust (an HIV awareness organization), among other organizations.
He even used the proceeds from several of his songs to benefit the causes he was passionate about. The singer donated the profits from his 1991 hit "Don't Let the Sun Go Down on Me" to the Trust and the proceeds from "Jesus to a Child" to Childline in 1996.
DJ Mick Brown tweeted that George also made a yearly donation of 100,000 pounds to his Easter charity drive.
In the days following his death, other tweets started resurfacing about Michael's recurring acts of kindness and lavish donations made throughout his lifetime.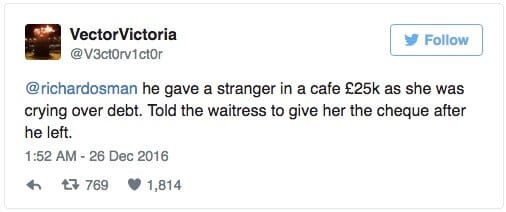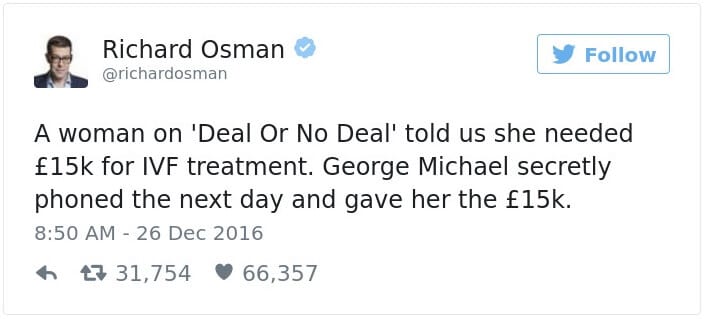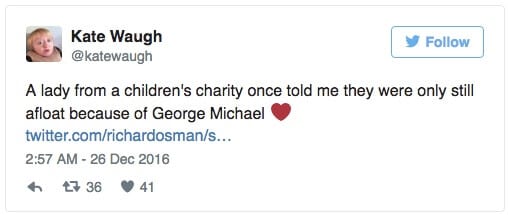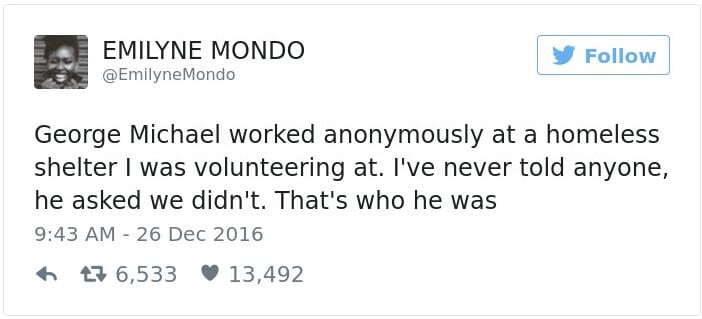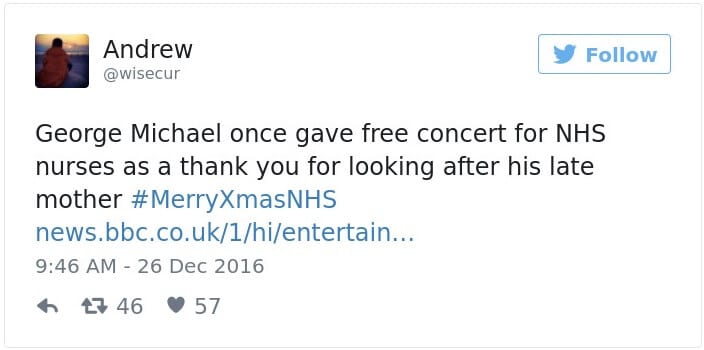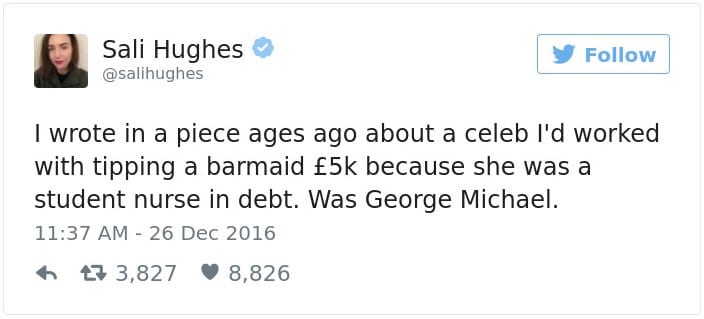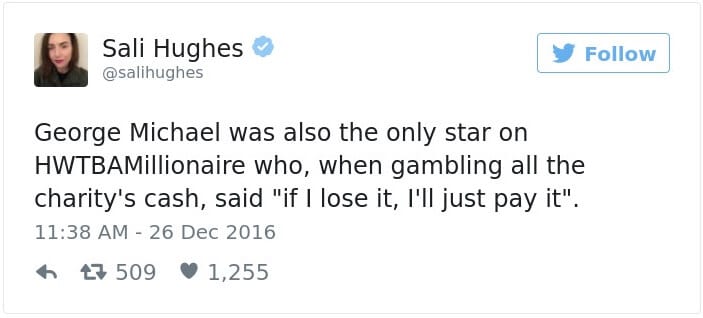 Whether the contributions were big or small, there was one theme that remained consistent in George's admirable giving streak: He kept it to himself. 
His humility exemplified Matthew 6:3 well:
"But when you give to the needy, do not let your left hand know what your right hand is doing." ~Matthew 6:3
George Michael will forever be remembered as a musical legend, but his quiet acts of kindness remind us that sometimes our most significant accomplishments in life are the ones that don't make headlines. ♥