For many, the Christmas season is filled with hope, joy and and an unexplainable sense of magic in the air. The presents piling up under the tree and the smell of homemade sugar cookies in the oven remind us of the abundant lives we've been blessed with as the year comes to a close.
But for Amy Rickel, that "Christmas magic" couldn't be further from her reality.
She recently moved to Green Bay, Wisconsin, to get her children closer to their dad, but the transition proved more challenging than she ever could have fathomed. With an empty wallet, a broken down car and three kids living in a hotel, this homeless mother was at the end of her rope.

Facebook/Amy Stade Rickel
Grasping for guidance and direction in her desperate situation, she decided to message an old friend for help.
It read:
"Hi Brian. Wondering if you know a good Bible verse to pray when in deep fear, weak, scared and personal despair/loss/breaking?"
After sending the heartfelt plea for prayer, Amy quickly realized that she had reached out to the wrong Brian.
She accidentally sent the message to Brian Van Boxtel, a man with a similar name to her friend.
Amy immediately apologized for the mishap, but the conversation didn't end there.
As she was "bawling and praying," Brian replied with a string of encouraging verses, the first being Psalm 56:3:
"When I am afraid, I put my trust in you." 
Brian then felt a particular question prompt him to go to Amy's hotel to pay for her stay: "What would Jesus do?"
The answer was simple.
He was on his way.
Amy was hesitant to receive his help, but Brian was persistent.
"He was like, 'Nope! God puts us in people's lives for a reason,'" she told WPXI news.
And that's not all. Brian also persuaded Amy to start a GoFundMe account to help get her on her feet. In about two weeks, the campaign goal of $2,000 has already been exceeded by almost double.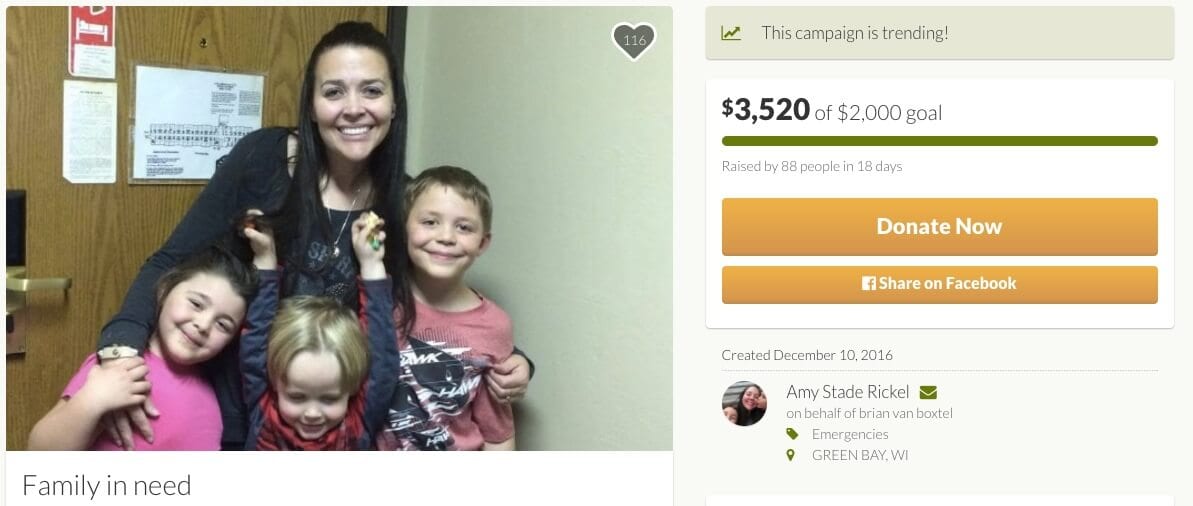 The string of kindness from Good Samaritans didn't end there.
Kathy Schumann offered for Amy to use her minivan and even helped to get her kiddos back home.

Facebook/Amy Stade Rickel
"She really tugged at our heart strings," said Schumann. "And we just felt like this holiday season we couldn't let the kids be out in the cold and we cleared out a room and brought them home."
As word about Amy's situation got around, other strangers found out that Amy was a nurse, and a local medical recruiter got her hooked up with a full-time job as an LPN that will start on January 3.
What a wonderful New Year's blessing for this struggling mama!

Facebook/Amy Stade Rickel
Amy is beyond overwhelmed by the great lengths these people have gone to in order to help a woman they don't even know.
She told WPXI it's simply "unbelievable," adding that this Christmas miracle has fortified her faith:
"It's totally restored my faith in more than just humanity, my faith in God."
She's forever grateful to Brian for responding to the tearful plea of a broken mother of three, but like a true man of God, Brian refuses to take the credit:
"I know that God had me in the right place at the right time and so I listened to my heart." ❤️