A British couple's much-anticipated date night is taking the Internet by storm this week after the blogger behind LadBaby, shared a video he titled "When you don't have a babysitter for date night." 
Sitting on the couch, we meet a couple who's discussing their plans for a long-awaited date night "tomorrow." 
The dad behind the viral video protested with his wife that a date night is too expensive because of the cost of a babysitter. 
"We don't need date night, do we kid? We don't need to spend money on a babysitter. We'll get takeaway if you want."
He's not wrong either. Growing up, I babysat almost every weekend. At $12-$15 an hour, it's no wonder parents can't get a night away! And if they can, McDonalds is the only justifiable dinner, otherwise you're spending hundreds of dollars on a kid-free night with your spouse! It's a luxury, really. 
After his wife clarified that staying in and eating takeout would not cut it for date night, the husband and father of one then agreed to take her out. 
"Go get your hair done and whatever, and come back about 8," he said. "And we'll go out on a date."

"Really?!" she asked.
With the camera rolling, the husband captured his wife's reaction when she returned home for their date the next evening. 
Dressed in a pretty black dress with her hair done and fresh red lipstick, she was feeling flirty and ready to have a night out with her husband. 
But her excitement quickly turned to contagious disappointment when she learned the babysitter was not there, and date night was a no-go.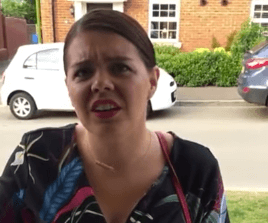 "Oh no… No date night," she said perplexed. "I thought we were going out."
He reassured his wife that they were in fact still having a date night, they just weren't going out. 
He promised her their child was asleep before leading her through the house to the backyard where he revealed his master plan. 
He brought date night to them! 
In the yard sat their favorite local spot—an inflatable 'Air of the Dog' pub.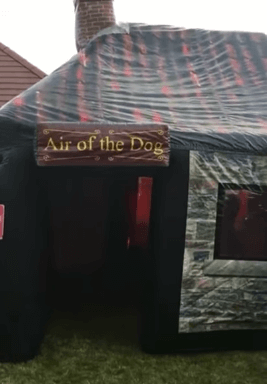 Inside, he treated his wife to her favorite glass of wine, and even dropped a flirty one-liner: "Do you come here often?" To which she giggled, "Yeah, it's the garden." 
No detail was too small as he pulled out nuts, pistachios and even "swanky" olives—all in little bowls—his wife's favorite.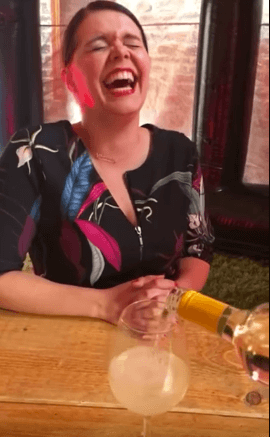 You could tell he'd nailed it because with every word that came out of his mouth, his wife's face filled with even more joy than before! 
With the baby monitor accompanying them at the table, the couple kicked off their very special date night with a replica of the games the'd find at their favorite spot.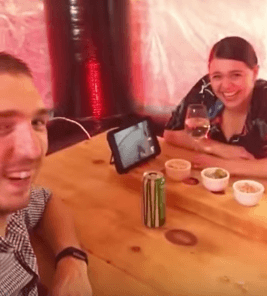 Flip card pub game, a "cheeky" game of tiny-portion beer pong, and even a whirl on the dance floor—equipped with a smoke machine and colored lights.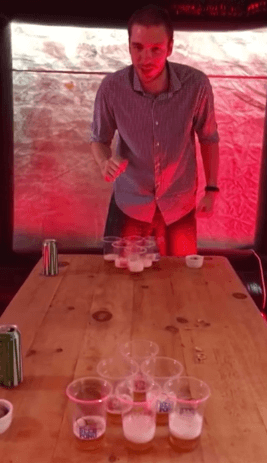 I have to wonder what their neighbors were thinking through all of this! 
At the end of the night, it was clear that his wife had thoroughly enjoyed his well-thought-out date.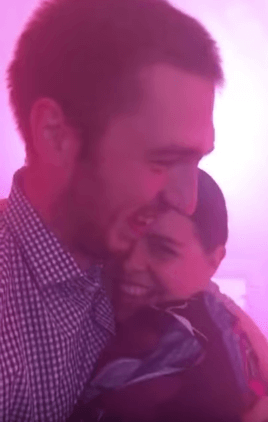 Of course, he couldn't just leave it there. He asked if they could keep the inflatable pub and use it for all their dates! 
Proud of himself, the LadBaby husband told his wife, "It's the best of both worlds: date night and we haven't got to pay for a sitter."
We can't argue with that! 
Shout out to LadBaby Official—you, sir, are truly killing it at the husband game.