Rory Feek has a message for the public about his terminally ill wife Joey Feek, and it's a heartbreaking one worth hearing.
As of lately, we all see Joey as this dying cancer patient, who was once a vibrant country star, mother, and wife.
But there's something Rory wants you to know. In his blog entitled "Braver Than Me," he writes
"I am fiercely protective of my wife. Any man would be.  With all she's going through, I only want her to be seen in a good light.  So, though I'm only an amateur with a camera, I try to use my lens and words to lift Joey up. Like any woman, my wife is self-conscious about what cancer has done to her.  Who she sees in the mirror these days looks like someone else… not the woman that she feels like she is inside.  And it hurts her deeply.
I know that.  So, I carefully choose what I share.  It would break my heart to have the thousands of 'before' photos out there of her looking beautiful and healthy all these years… be replaced in people's minds and hearts by a single 'after' photo of what cancer has done. She wants to be remembered as a singer of songs.  A devoted wife.  A loving mother.   Not a cancer patient.
And so I have tried to be very careful.  To honor her. But my wife is braver than me."
He wants you to remember Joey as she was for all of her amazing years on this planet, not how she ended up right before she left. She's still the same strong, bold, beautiful woman inside, just thinner–much thinner, and sporting a new do.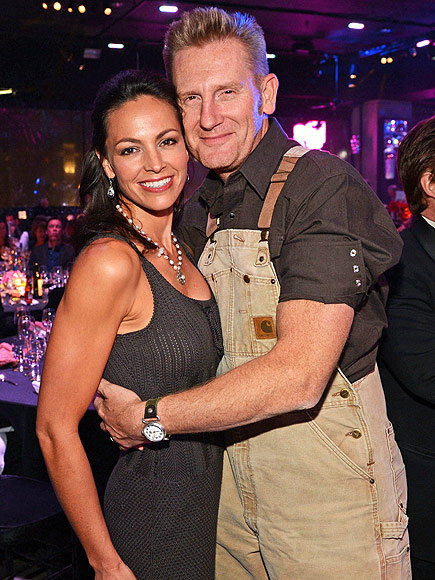 As their inspirational story spreads, the two have also battled how much is too much to share. He continued,
"She wanted to know what was being said outside of this house.  Out in the real world.
I told her.  I told her what was happening.  At least what I thought seemed to be happening.  That somehow, people – a lot of people – have been following her story.  Our story.  And how she was inspiring others with her courage.  And how what I've been writing has been encouraging others in ways too.
And we talked about how much is too much to share.  How honest do we really want to be?
It's like questioning God about the twists and turns he's brought into our life in the last few years… and asking Him "how much is too much?".   Sometimes I feel like shouting, "we get it God…you're in control.  Life is fragile and all we have is today".  But He just keeps bringing more story and more pain, and more beauty… all at the exact same time.
So together, we made some decisions.  This is our life.  It's what He has given us to live.  And share.
Sharing what we're going through with others is really all we have to give.   If you share what you're going through with me… maybe I'll be able to draw something good from it if I am one day in your shoes."
Joey can't get out of bed anymore, but Rory says she's so incredibly "sharp and clear" that outside of her bad days, you'd think she's her normal self. "But she is beautiful.  So so so beautiful," he writes. "When God begins to take the light from the outside… the light inside just shines all that much brighter."
He also wants to redefine hospice for people.
Many, myself included, have been guilty of assuming that "hospice" implies someone is within days or moments of death. But Rory clears up that that's simply not true.
"I think, like me, most people probably think when they hear that word that it means that the family must be gathered around their loved one… watching them say their final words and breathing their last breath.  And I'm sure in some cases, it probably happens that way," he said. "But last year when my mother was dying of cancer – after hospice was brought in… Mom lived another 3 or 4 more months before she breathed her last.  I've since heard that it's not uncommon for people to be on hospice for 6 months, or longer."
He faithfully asserted:
"But God chooses the appointed time.  Not us.  Not hospice.
My wife is strong.  Very very strong.  So is her will to live.  Especially with a little one who gets excited every morning to see her.
There isn't a day that goes by that she doesn't look me and her family in the eye and say "I'm gonna beat this", or "I'm getting better, I believe that".  And she asks me if I believe it, and I do."
Though she can't put one foot in front of the other physically anymore, that won't stop her from doing it spiritually, for she knows Jesus is walking with her.
Just a few days ago, on the last day Joey walked, Rory wrapped her in his arms in their living room–and they danced, perhaps the last dance they will ever share.
But God will be the judge of that, not hospice.
Joey elaborates on the beautiful moment he shared with his wife:
"She steadied with her cane and I softly moved her across the room singing George Strait's "You Look So Good In Love" in her ear."  In the middle of the song though, as I was being careful not to step on her toes – she stopped and looked up at me and said, "How about if I lead?".   And I followed her lead as we slowly two-stepped on her mama's living room floor.
Like dancing, she wants to do this right, or not do it at all… to share the good, the bad, and the beautiful.
And so we will."