Whether you're a sports fanatic or not, surely you know Michael Phelps, the most decorated Olympic athlete of all time. Swimming in four Olympic games, Phelps has racked up 22 medals—18 of which are gold.
He was only 15 years old when he first made the 2000 Olympic team in Sydney, Australia. In 2004 he competed in Athens where he won six gold and two bronze medals. Phelps returned to the 2008 games to compete in Beijing, China, where he took home a record eight gold medals. His most recent Olympics were in 2012 in London, where he won six more medals total—four of which were gold.
Now he's had 23 gold medals, 28 overall, and is the most decorated Olympian in history, and it'd be easy to stop there and assume that his life has been one nonstop train of medals and endorsements. But that's not the reality of it.
In London, the 2012 games, he took fourth, a race he was supposed to win and didn't even place.
"I was a train wreck," Phelps told ESPN. "I was like a time bomb, waiting to go off. I had no self-esteem, no self-worth. There were times where I didn't want to be here. It was not good. I felt lost."
Around this time, photos began to emerge across the Internet and social media of Phelps smoking marijuana and drinking heavily. He was arrested on two separate occasions for drunk driving. After one encounter with the cops, he spent days wallowing in his bedroom, where he contemplated suicide.
That's when God stepped in. Through his Christian friend and NFL star, Ray Lewis, Phelps' life took a dramatic turn. Lewis gave him a call and told him, "This is when we fight. This is when real character shows up. Don't shut down. If you shut down we all lose."

Through their conversation, Lewis was able to convince Phelps to seek help at the Meadows, a behavioral rehab facility outside of Phoenix. He also gave him a copy of Pastor Rick Warren's book The Purpose Driven Life.
Making it back to the podium is so much more than a crazy diet and early morning workouts, it's taking courage and internal battles to end up back in Rio.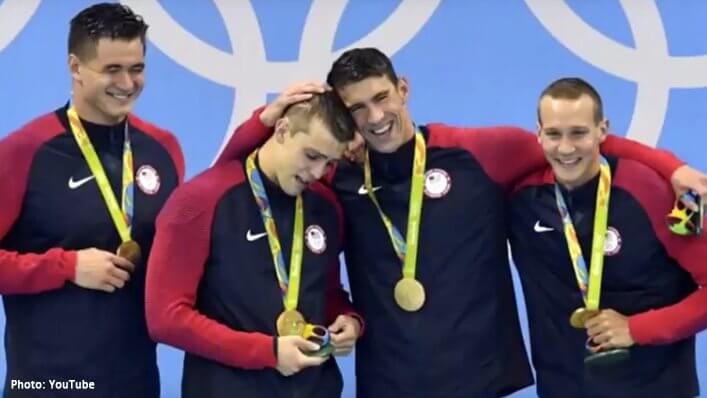 After achieving his 19th gold medal last night, we all know that Michael Phelps is no stranger to the Olympic podium. So he wanted to give the younger guys a bit of advice that you wouldn't necessarily anticipate coming from the most decorated athlete of all time:
"I told them beforehand it is OK to sing, and it is OK to cry," Phelps said. "It is good to see the emotion out of those guys, and it shows they really do care. They were so amped. As one of the old guys, it is pretty cool to see."
Sure enough, as he stood up there with teammates Caeleb Dressel, Ryan Held and Nathan Adrian to sing the national anthem, the waterworks ensued, and it was quite a beautiful moment.
Phelps swears this is goodbye, as he's looking forward to being a father and a husband.