After her 2-year-old daughter kept her up all night, Dianne Hoffmeyer did what any sleep-deprived mama would do.
She treated herself to coffee and donuts at the local Tim Hortons, thinking it would be a nice pick-me-up.
It wasn't long before her much-deserved treat became a real salty interaction. Two women in line behind her began hurling insults at her, making unbelievable remarks about her weight and appearance.
'Oh, look at her hair, it's nasty looking and the roots are coming through," Hoffmeyer recalled. "Oh, she's a whale; oh, the whale needs to eat.'"
What nobody knew was that this exhausted mama had just lost 177 pounds!
She was a whole new person, but these two strangers had no idea the pain they were causing her. It went much deeper than words.
And those donut holes actually weren't even for her; they were for her sick 22-month-old daughter.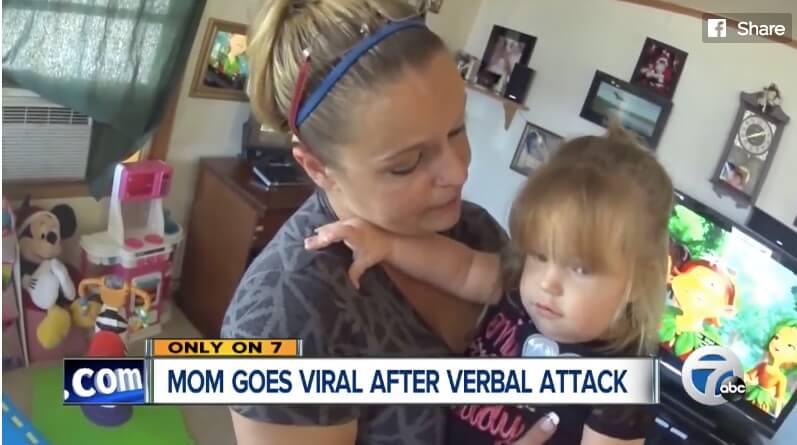 "I instantly started to cry, because it hurts," she said. "I don't know the women. I don't know why they would choose to say something like that."
Most people might react with rage and choice words, but not Dianne Hoffmeyer. She turned to the cashier and did something that stunned everyone.
With grace, she paid for her coffee as well as both of theirs!! The cashier was shocked, as I'm sure both women were too when they got to the register and realized what had happened.
Dianne went back to her car and cried for 15 minutes, but she knew she had set the right example for her daughter.
When she took to Facebook to share the encounter, her story quickly went viral. It read, in part:
"To the 2 mean bitter ladies that were standing in line at Tim Horton's…I could hear the hurtful things you said about me. Sorry that my hair needs to be re-colored and the roots bothered you, but I have children that need to be taken care of. They come first. You both were right when you said I didn't need the small box of tim bits because I looked like a whale. Just so you know they were not for me. But for my sick 22 month old daughter who has kept me up all night crying and teething…

Then when I ordered a coffee that I RARELY get to treat myself to you both snickered and called me a 'Retarded Lard A$$'…But to show my mother raised me better I'd like to say YOUR [sic] WELCOME. Because this 'Fat Retarded Lard A$$' paid it forward and I bought your coffee's [sic] this morning."
According to the staff at Tim Hortons, those ladies have not returned. But when asked what she'd do if she ever saw them again, Dianne simply replied:
"I'd like to buy them another cup of coffee, and talk to them and explain to them how it made me feel."
Wow. Way to rise above and pay it forward in our revenge-seeking world. If I ever run into this strong, inspiring mama, the cup of coffee's on me.