Tragedy struck the U.K. again this morning as a fire engulfed the Grenfell Tower in London, leaving at least 12 dead, and dozens of others injured as the death toll continues to rise.
Horrific images of the blaze emerged on social media, showing flames consuming the massive 24-story, high-rise building.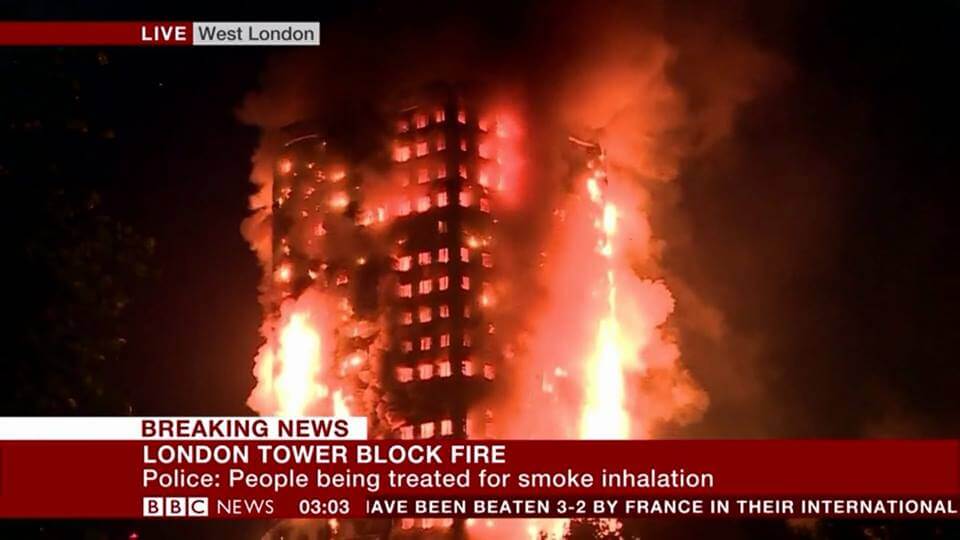 The apartment building fire is speculated to have been caused by a faulty refrigerator in one of the flats just before 1:00 a.m. local time, though officials have not yet confirmed the source.
Residents frantically tried to escape the building, as groups of people and rescue squads gathered below.
More than 40 fire trucks and 250 firefighters were called to the scene.
From the ground, Samira Lamrani said she saw a woman who appeared to be on the ninth or 10th floor of the building. She was gesturing for someone below to catch her baby.
According to the witness the mom yelled, "I'm about to throw my baby. Please catch the baby!"
Seconds later, from her apartment window, the woman dropped the child from 100+ feet.
Amidst the horror and flames, a miracle happened.
A man, who was gathered with members of the public below, darted from the crowd and toward the building where he managed to catch the dropped baby  and get it to safety.
Samira says the rescue was "miraculous."
The apartment building houses 120 homes—all of which have been completely destroyed. A structural engineer is monitoring the building, which is at-risk for collapsing. As of right now, it is still safe for rescue crews to be working.
Twitter
Still 12 hours later, people are being pulled from the wreckage and 12 have been reported dead. There is no word on whether or not the baby's mother has survived.
Please join us in praying for all the victims and their families, and praise God for showing up in a BIG way to save this precious little baby from harm in the midst of such unthinkable tragedy.