When she locked eyes with me and said, "You are good man," I took the opportunity to share the Gospel with her. I tried my best to explain it in a way that she would understand, but the language barrier was strong. I tried to make sure that she at least knew the name Jesus.
After that, I knew the best thing I could do was show Jesus to her.
I kept prodding about her life and found out that because her mom passed away, she takes care of her 7-year-old sister. I then asked Anette what she liked to do for fun. She said, "I don't like work but I like having a customer. At least then I'm not alone. I don't like being alone. Because of travel and work I have no friends."
After our food came to the table, she asked my permission to get it to-go so her sister could eat some of it. I agreed even after she refused to let me buy her sister her own meal. Then I remembered the market I walked through earlier. I asked her if she and her sister had enough clothes. She said no so I offered to buy her clothes and she excitedly agreed.
My experience in the market was very different this time. Before, every vendor called out to me, "SIR SIR, would you like shirt? Would you like camera?" Whatever the vendor was selling was being called out to me, but not this time.
Vendors saw me with this woman and looked away, embarrassed. It was a lot quieter than before. We eventually found jeans and shirts, and for $32 she was able to get a few outfits for her and her sister, including a brand new pair of shoes.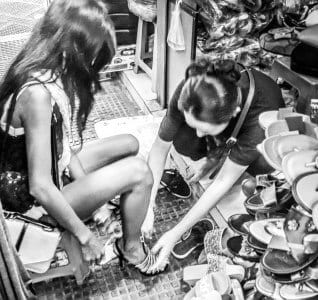 As we continued to talk and get to know each other, my heart continued to break. It broke for the way people looked at her, it broke for the way she looked at herself, and it broke for the way people looked at us together.
People assumed they knew what's going on. They looked at her with contempt for what she does and what she represents.
But I know the truth
I know that this woman isn't just a prostitute, she is an heir. I know that this precious woman is a princess and the King of Kings died for her. I know she is worth more than $20 dollars for 4 hours and that she is treasured beyond belief.
I know she is valued and loved to an extent I will only fully comprehend in heaven.
After she got her outfit, I gave her a few extra dollars and we parted ways. It was only then that Anette finally believed that I didn't want anything.
When I told her I had to go I could see [the] shock on her face. Her expression showed her disbelief in what just happened.
I saw her walk away happy to find her sister with new clothes in one hand and a meal in the other. I realized, this is what Jesus does for us. He sees us in a way that no one else may. He gives us more than new clothes and a meal — He gives us a new name. We sell ourselves to the things in this world all the time, but He takes us and buys us back. He loves us with a love that cannot be described.
We can more accurately demonstrate this love through actions rather than words. Go show people love today!
*The true name of this woman has been changed to protect her privacy.*
About the Author: Josh Stoneman is an author at Path & Pavement who has a passion for loving people and finding adventure! He graduated with a Bachelors in Religion from Liberty University and has been working with churches and missions organizations for 8 years. Check out more from Josh at his website or follow him on Instagram.