Colin Kaepernick's controversial decision to kneel during the national anthem last season in an effort to take a stand against black oppression has created a wide spectrum of responses, ranging from "STAND or be anti-American" to "KNEEL or be a racist disgrace."
Donald Trump's call for the NFL to fire any "son of a b***" who got down on one knee during the anthem fueled America's already white-hot, racially-divisive fire last September—and the controversy has continued to resurface in various forms throughout the season, all the way through Super Bowl.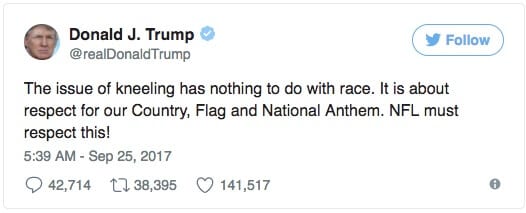 The latest flare-up was ignited after the National Football League rejected a Super Bowl ad submitted by the American Veterans (AMVETS), featuring the two-word hashtag "#PleaseStand."
.@AMVETSHQ will NOT tolerate the @NFL refusing #Veteran right to free speech. We fought for it! #PleaseStand #SuperBowl pic.twitter.com/NARbC5zKuE

— Marion Polk (@AMVETSNatlCmdr) January 22, 2018
After being invited by the NFL to place an advertisement of their choice in Super Bowl LII, AMVETS—America's largest veteran service organization—took great offense to the league's rejection of their message.
"It's a simple, polite request that represents the sentiment of our membership, particularly those whose missing or paralyzed limbs preclude standing," National Commander Marion Polk wrote to NFL Commissioner, Roger Goodell.
The organization asserts the NFL's distasteful response is an act of "outright censorship."