After a terrible car accident just three months before her wedding left Liz Soden paralyzed, she knew she wouldn't be "normal." She wanted what she thought would be best for her fiance, Brad.
"So I told him, go out and find someone else." 
Instead, he made it his life-mission to give her a better life.
"I loved her," he said. "There's no way in hell I could walk away from this girl and ever look at myself in the mirror again."
This is what true love looks like. 😍❤

#LoveWhatMatters

Posted by Love What Matters on Wednesday, July 12, 2017
In the weeks leading up to their wedding, Brad created a prototype wheelchair—a modified golf cart—so Liz would be able to cruise down the isle and get around on their big day.
"Most of the time, when you are in a wheelchair, you are put someplace and people have to come to you," Liz Soden said. "But with the golf cart, I was able to move around and see everyone. I wasn't stuck in one place."
It was the start of a 17-year-journey to what is now known as the "TankChair."
After about five years of improved mobility with Brad's golf cart wheelchair, the couple found that Liz needed something more. Keeping up with the outdoor lifestyle they lived and being able to do things with all five kids was becoming harder and harder.
"We were out there one day and a herd of elk came through the campgrounds," Brad recalled. "We tried to get her in the chair and get her out with the kids, and the chair kept getting stuck. She was crying, saying, 'Just go on without me,' and I just found that unacceptable. So I told her I would build her something."
With no former training in engineering or physics, and nothing but a high school degree and experience as a plumber, Brad got to work. He wanted to create a wheelchair with no limits—one that would allow Liz to do everything she normally would, just without the use of her lower body.
"I'm just a dumb ol' hillbilly, but I wasn't going to take no for answer, so when a lot of people turned me down…it didn't stop me. I just kept working at it."
Making it his full-time job, Brad developed the first TankChair in 2007, which he says tested the limits of what you can do with electricity.
"Started a lot of fires, met a lot of resistance. But from what I learned, with the applied science, we've done some pretty cool things."
Far from your ordinary wheelchair, TankChair was constructed with tank-like treads, which would cover any terrain—from snow to mud to mountains—with ease.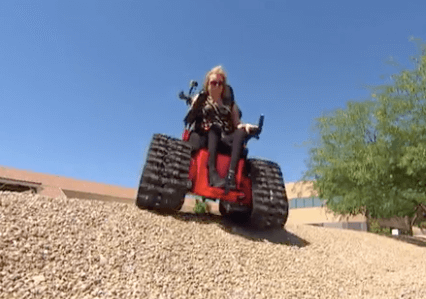 After successfully working up his first model, it was time to take it for a spin. What better place than the Grand Canyon?
Brad took Liz on her first "hike" since the accident, and nothing could have made him happier than the joy she got out of it.
"She just had this big, million- jumbo-watt smile," he recalled. "She got to go on a hike with her two little girls side by side. She got to go by herself. It was freedom that she had not had since the accident. I got to sit at the camp with the boys and I could watch her go off, and she got to enjoy herself."
Liz says prior to the accident, the family was always camping and spending time outside. She loved doing things like setting up camp as a mom with five kids.
"After the accident, I got sit next to the fire and everyone else went off and did everything. I tried so hard not to cry. The kids wanted to go on a hike and I couldn't go with them."
TankChair changed all of that. But Brad wasn't finished there. The new wheelchair gave Liz a freedom she desperately longed for, but it was limited to the outdoors.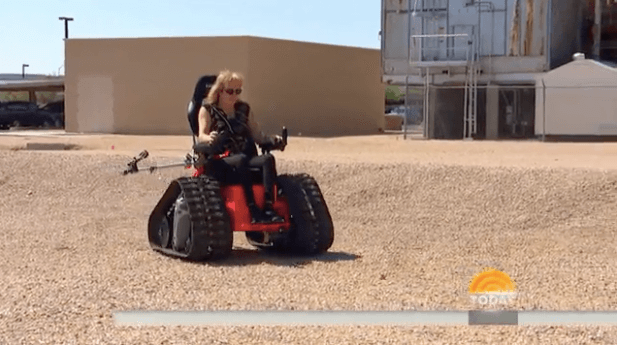 Brad set out to create a one-of-a-kind "Speedster," complete with motorcycle tires and a high speed of 30 miles per hour. Its battery held charge for 10 full days. That's what Liz travels around in today. Each of his chairs are built to last at least 15-20 years.
The couple created the Liz Soden Foundation in 2011, which seeks to provide one of their custom chairs—either the TankChair or the Speedster—to a paralyzed person in need.
One thing is for sure: Liz Soden will never find a problem her husband Brad can't fix!