(This is part two of a five-part series on Syrian refugees. Read part one here.)
"HERE!" the guard said and pointed to a metal detector.  
My delay causes him to point again. Pretty sure this is the only English he knows.
Which happens to be one word more than the Croatian I know.
So much has led up to this point. The months of planning. The mental preparation. The conversations with friends. The researching. The goodbyes to family. The sleepless travel days. The crossing through country borders. All came to this specific moment; the moment theory becomes reality.
We are pointed to an office where we must confirm security clearance. This is where we meet Kata, the Croatian police officer who will escort us throughout the refugee camp.
Kata speaks English.
Thank goodness Kata speaks English.
Kata has a kind smile. One of those smiles where you know she's a sweetheart, yet could also leave you crying on floor with a broken arm if she ever felt the need to do so.  
I made a mental note to stay in Kata's good graces throughout the remainder of this visit.  
"Over here is where they come in on the train," she points as we walk through the camp.  "And here is where they…"
…
They?
My mind went numb.
They…
I'm not sure I heard anything Kata said for the next several moments.
They.
As if an identity has been sequestered to this one specific definition.
They.
A word that instantly separates—pity silently attached.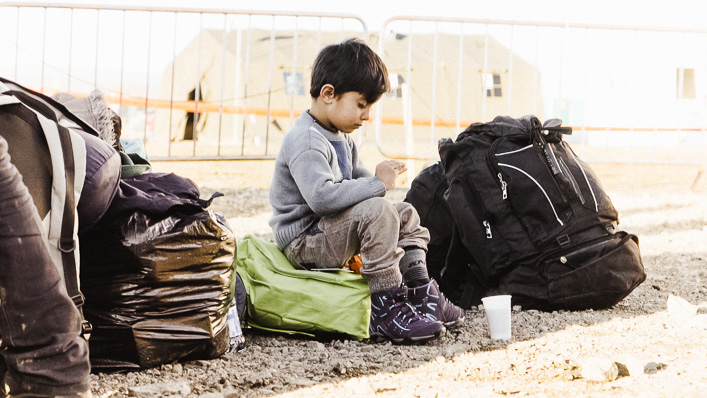 Don't get me wrong—Kata is a beautiful person! A woman who has volunteered her free time to help us out. To help these refugees out.  I'm not entirely sure I could describe things any better, but it hit me when she said that simple word… "They."  It made me realize, at that moment, that I've been viewing these beautiful people—these often misunderstood people—as a "they."   
As if I somehow rank higher on the totem pole of value.
*For the record, from this point forward, "they" will unfortunately still need to be used in these writings. But I hope it will be taken as a word of endearment and respect, not distaste or pity.
We walk through the camp, slowly, soaking in detail after detail. "This is where they are processed and fingerprinted," Kata explains. "This is where they receive medical attention. Over there clothing, shoes, backpacks, hot tea, etc."
Then we turn to our right, back towards the train, and walk into a scene my mind will never forget.
Hundreds of people herded into an organized line, every possession their life has to show for, patiently waiting to board a train of which they have no clue the destination. Children with packs on their back they could quite literally fit inside, mothers with eyes which redefine the word exhaustion, and fathers who have no option but to strongly stand with optimistic hope.  
Words do not do my emotions justice.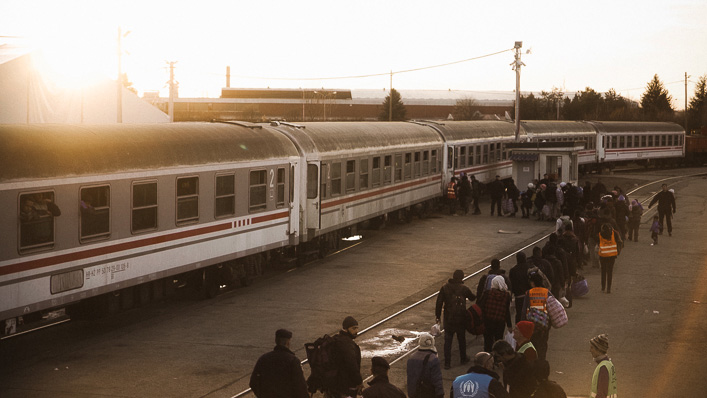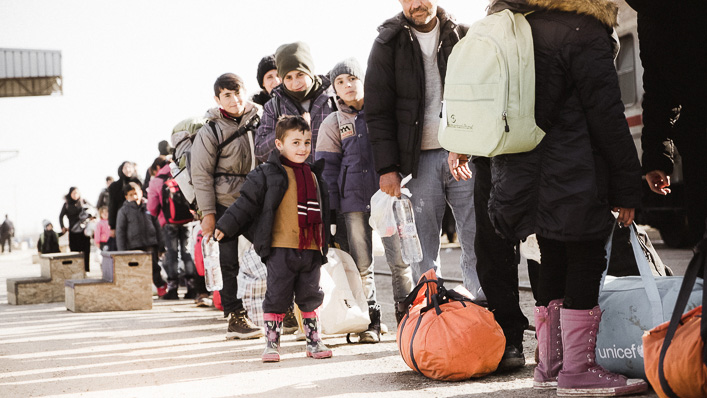 This is a largely misunderstood people group. Their identity, to us from the west, has been molded by a click-bait happy media, and they desperately need a voice to share why and what their reality has become.  
I walked into the camp, honestly predetermining what my emotions would be. I've been through this before. I've done these videos before. Ranging from huts scattered throughout the countryside of Ethiopia to homeless street children in Addis Ababa, to persecuted people groups in Uganda, to incarcerated teenagers in Ohio. I've sat and cried with widows piecing together their future, I've been taught lessons in faith by orphans with nothing more than a t-shirt and shorts, and I've quite literally witnessed a demon prayed out of an eight-year-old boy… Yeah.