Florida mom-to-be Andrea Grant is used to turning heads—in 2001, when she was just 8, a gas leak in her home caused an explosion that left her severely burned over most of her body—and the scars are easy to see at first glance. Grant tells her survival story on the Burn Survivor website:
I was burned in a gas explosion on August 14, 2001. My brother, age 11 at the time, and I, age 8, were coming home from school. Usually we waited outside of our home until my oldest sister got off of her bus. The wait wasn't that long, maybe five or ten minutes. On this particular day, we had a key, so we went inside. When walking into our home, my brother and I smelled gas, yet at that age didn't understand what to do. We just proceeded with our regular routine.

Once we flicked on a light switch in the kitchen, the kitchen and living room area blew up which knocked down an wall that would become our exit. Help from our neighbors kept us calm until fire and rescue arrived. Later on, we found out the explosion was caused by a leak.

We were flown by a medical jet to Galveston, Texas and received treatment at Shriner's Hospital. I suffered second and third degree burns to 80% of my body. Our mother, Katana Campbell, who was at work at the time of the explosion, stood at our bedside for two months making sure that we kept every limb on our body.

My mother prayed and kept strong, running from my brother's room to my room. For that, I am so thankful. Her daily prayers, as well as prayers from other people and our church, helped us make it through the hard times. We left Shriners with every limb on our body and a joyful and thankful spirit. Thank-you Jesus.
Fifteen years later, Grant is turning heads for a different, yet related reason—the 23-year-old beauty is simply GLOWING with pregnancy, and her baby is a miracle! Told she would not be able to carry a baby to term because her scarred belly skin wouldn't stretch, Grant is defying the odds, and helping other burn survivors along the way through a group she founded called "Beyond Scars."

Now 37 weeks pregnant, she's due any day—and she's got a viral maternity shoot that is putting survival and the beauty of motherhood in the spotlight!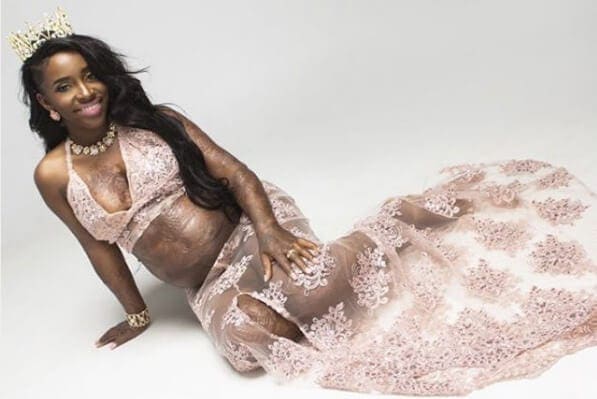 Photo: chillonmill on Instagram
After posting her gorgeous maternity photos shot by photographer Terrence Armand, which put her scarred belly on prominent display, Grant quickly went viral. Her photos have garnered over 20,000 likes on Instagram and have inspired stories from countless media outlets.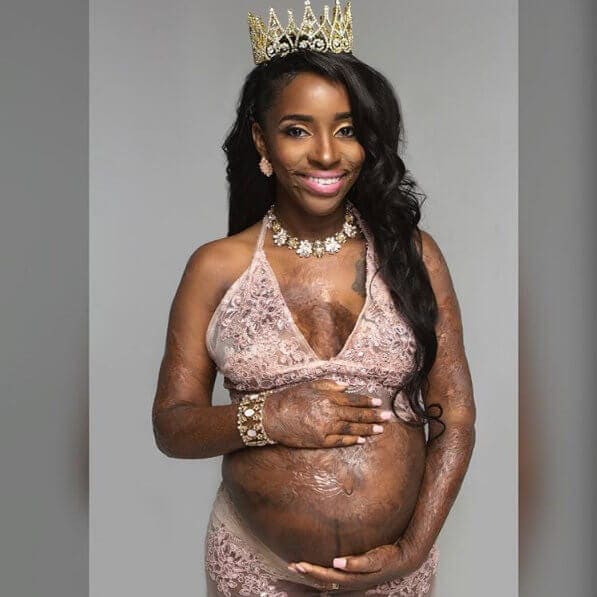 Photo: chillonmill on Instagram
Grant says the consistent application of oils and lotions has helped her scarred belly skin grow as it should to accommodate her growing baby boy.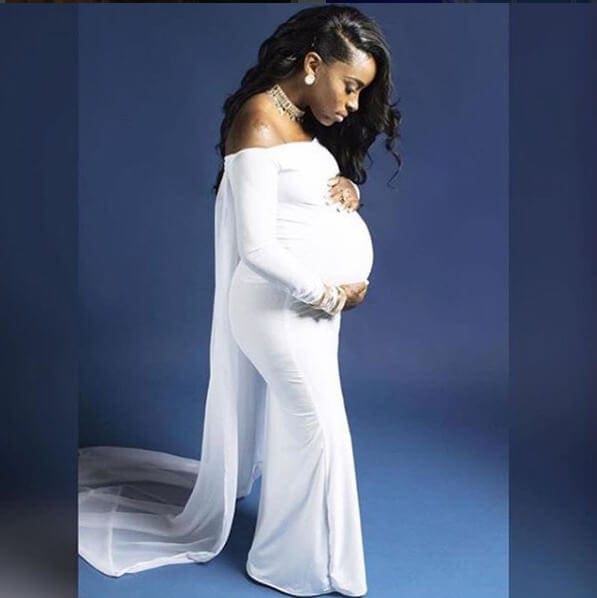 Photo: chillonmill on Instagram
I have to say I think her joyful spirit, attitude and thanks to God also had something to do with it. I LOVE these photos and the confidence they are undoubtedly giving to other burn survivors, and I can't wait to hear more about this miracle baby's birth!