It was time for friends and family to say their final goodbyes.
But Nathan just couldn't do it. Sasha would survive against all odds. He knew it in his bones:
"I couldn't finish the text message, I couldn't send it… Because it felt like, if I would have told them that my wife is dying, then that was me giving up on her."
Nathan couldn't bear the thought of losing not only his wife, but his best friend.
"We met in tenth grade—geometry class—she told me I had horrible hair… She kind of gives me direction, she's made me a much better person."
Miraculously, Sasha survived what the doctors swore would kill her. One week later, she went back in for one more operation.
"Just like the first time, they came back after an hour, we were terrified," said Nathan. "The last time they did that they told us she wasn't going to make it, but it was the polar opposite."
Sasha bounced back remarkably and fully recovered.
However, their unborn son was still in peril after being without oxygen for so long.
Dr. Abla is convinced that this warrior mama bear's will to live kept her and her baby fighting:
"This is someone who definitely has a will to live, who subconsciously is thinking about her baby, as soon as she came around, you could tell that she was touching her stomach. You could tell this was someone who was fighting not only for her life, but for the life of her child…"
A few months later, the adorably perfect Jack Grayson was born.
He suffered no ramifications from his mom's health scare.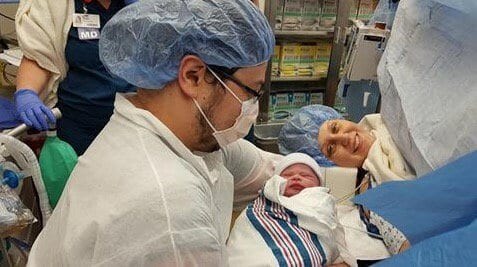 For the Belchers, this beautiful baby boy's face will forever be their reminder of the saving hand of God and the sheer will of a mother to create living miracles. ❤️