A Methodist church in Tulsa, Oklahoma, is positioning the message on its marquee a little differently this week with lyrics from the late musician Prince. While they wanted to honor Prince's death, there's also a deeper meaning behind the carefully selected quote excerpted from the singer's "Let's Go Crazy" song.
The sign reads, "Dearly Beloved, We are gathered here today to get through this thing called "Life."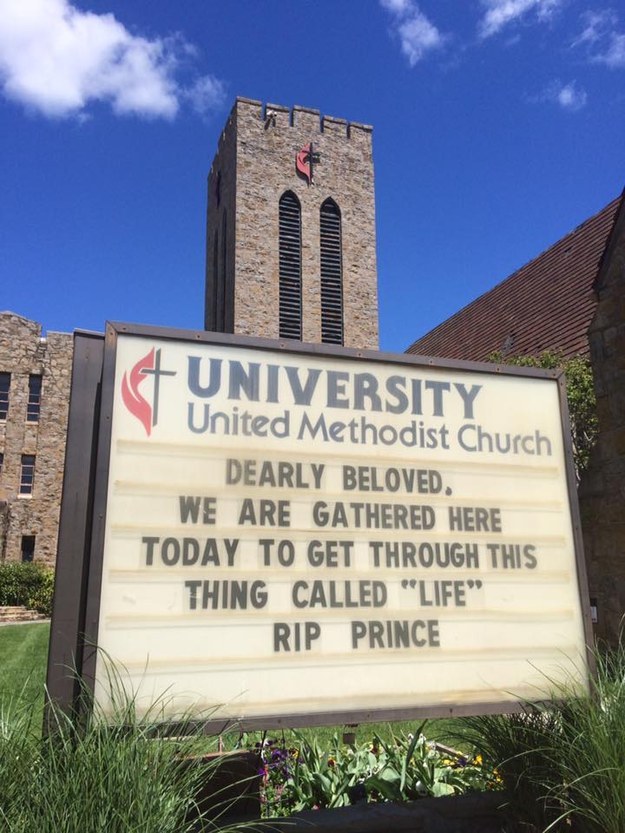 The pastor of the University United Methodist Church, Nathan Mattox, told BuzzFeed that they typically put an inspirational message on their sign since it receives so much attention due its central location on a college campus.
"The church sits right in the middle of the University of Tulsa campus, so the marquee gets a lot of views from passersby," said Mattox.
Pictures of the sign have circulated social media widely as its words have resonated with thousands of people across the country.
"We just hope that the quote might signal to the broader community what we hope to do as a church—not be judgmental know-it-alls, but instead a community of people 'gathered to get through this thing called life,'" he added. "Simple words from a beautiful person—what the church is always seeking to publicize."

The church shared the image on Facebook with a caption that read, "Punch a higher floor, brother," and it has since been shared over 12,000 times.
In a culture where the church is often known for exclusion and judgment, it's so amazing to see this particular church extend its mission with an open heart aimed at sharing God's love through community and acceptance. After all, that's what He's all about. Not religion. Not rituals. Not rules. Just relationship.
Based on how many churches have portrayed Him, so many people have a misconception about God, as though He's this angry father waiting to strike us down with lightning bolts the second we do something wrong—but that couldn't be further from the truth.
It's remarkable how music can speak straight to the soul, so to sum it up, I'll close out with the lyrics of Prince with a few from Judd & Maggie:
"You don't need to prove, you don't need control
You don't need to win, or to sell, or to own
You don't need to suspect there's an angry king
Who sits on a cloud and likes to throw lightning

He wants you."
And so does the church. After all, we're all in this thing called "life" together. 😉
Share this post with your friends if you agree!