Whether they're 5 or 85, every girl deserves to be treated like a princess.
This father-daughter duo is stealing hearts across the Internet for their "date night" that quickly went viral.
Caitlin Fladager shared a post on Friday of her high school sweetheart-husband getting ready for a big night with their little girl. She said her husband, Noah, had decided that once every month, he would take their daughter out on a date.
He started by helping his little princess with her date night wardrobe.
"He helped her pick out a dress for her to wear, got a little purse ready for her, held the door open for her and made her feel like a princess."
When the time came, the two went out for cake and ice cream.
"She loved it and was so happy when she got home. She will always know how she deserves to be treated because her dad sets such a high example."
After being shared more than 40,000 times since it was posted on January 6, thousands of parents have commented on Caitlin's post with praise and excitement. Many were excited to try this bonding idea with their own kids.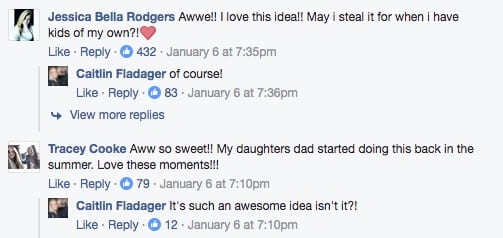 What an awesome way to grow closer to your kids, while setting a solid foundation for their future relationships.