These days, people seem to invest a lot of weight into the cost and appearance of a wedding ring.
I blame Pinterest. I mean, without all of those #goals and wedding boards, I'd like to believe that society's expectation of what it means to commit to someone else wouldn't be dependent on a ring.
I know that's not actually the case though.
We live in a materialistic world, where your status and your Instagram tend to determine your worth. But it's so sad to me that marriage—something created by God and for God, has become so centered around what you wear on your finger and why.
Luckily, there are wives out there like Laura Floyd. She not only rocks her wedding rings for what they are, but also has the heart to share the sentiment with others.
"A lot of people ask why I have 3 wedding rings and one that's broken. The broken one is not really broken; it had to be cut off when I had preclampsia with my first child. I got a new set but I couldn't let go of the cut one.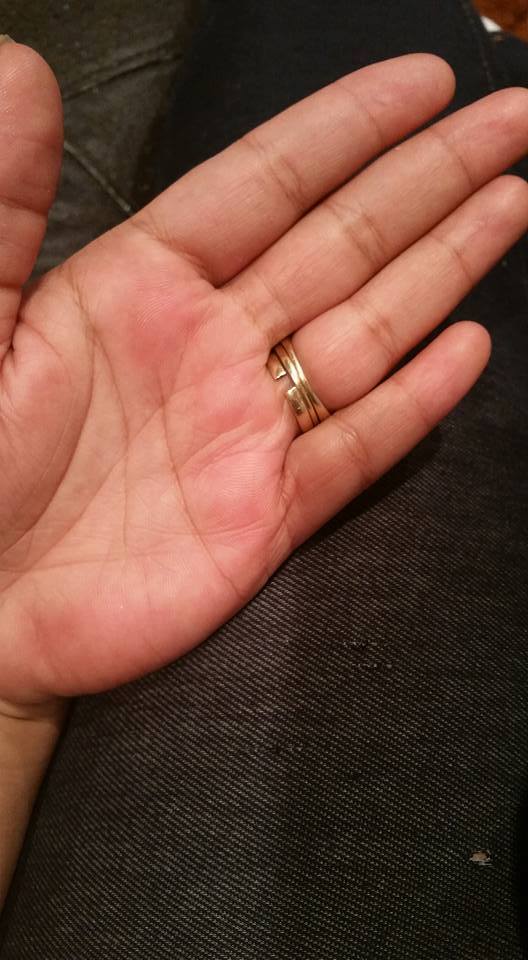 To me it's more than a broken or cut ring. Me and my husband got married when I was 19 and he was 21. We were young and in love and pretty much broke. Our first set of rings maybe cost $300 total for mine plus his. To me this broken ring is a symbol of love and never ending faith. We have been through so much in the past almost 10 years but I wouldn't trade him or my broken ring for anything. I will always wear my broken ring. It's my proof that even though something may be broken or not up to society's standards it doesn't matter. What matters is the pure love and strength we both have for each other!"