NFL fans near and far can agree that the 2017 regular season took on a mind of its own. This season's games have been known for a weekly headcount of knee-takers and fist-raisers, political turmoil and a glimmer of hope in a Justin Timberlake Super Bowl halftime show.
But no matter how much this NFL season is marred by negativity, it's become clear that there's one team we can count on to spread the GOOD.
Philadelphia Eagles fan or not, the team's band of Bible-believing-brothers is sure to have you cheering them on week after week.
Last October, the team quietly made headlines after a photo was shared on Twitter showing wide receiver Marcus Johnson being baptized in a hotel pool prior to the team's face-off against the Carolina Panthers.
Even more discreet than the team baptisms and individual devotionals on the YouVersion app is Eagles MVP candidate-quarterback Carson Wentz. After sustaining a severe ACL injury, Wentz may be out of Super Bowl 52, but the stories surfacing of his undying loyalty to teammates and fans alike are no less inspiring.
All season long, Wentz has been sporting a gray rubber bracelet that reads "Dutch Destroyer," a nickname given to 10-year-old Lukas Kusters, who gifted the bracelet to his favorite player last year.
Lukas had stomach cancer, which tragically took his life this past June. But not before meeting his idol and role model, No.11, Carson Wentz.
ESPN premiered a documentary about Lukas, which showed the young boy's Make-A-Wish experience with the Philadelphia Eagles last May. His time included a trip to the Eagles' practice facility, meet-and-greets with the players, and plenty of quality one-on-one time with Wentz.
It would seem that the Eagles had quite an impact on Lukas during his short life.
But what that incredible 10-year-old never knew was the impact he had on the 24-year-old quarterback.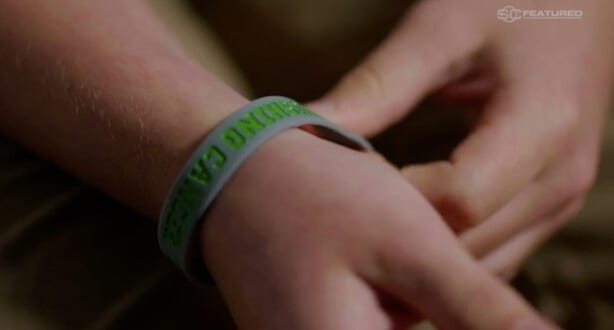 After beating the Washington Redskins this season, Wentz talked about the Kusters family, who was able to attend the game. He said wearing Lukas' bracelet on his wrist is a constant reminder that "it's so much bigger than football." He said he's been praying for that family for a long time and doesn't take for granted the opportunity to make an impact.