Whether you know him as Michael, from That '70s Show, or from one of his many more recent spots in film and TV, Ashton Kutcher is a Hollywood star who's become a household name.
Though he's best known for his acting roles, Kutcher has his hands in every bucket you can imagine—what he considers to be his "actual day job."
He's a business entrepreneur, founder of nonprofit organizations, technology guru, humanitarian and now full-time father of two—a 2-month-old son and a 2-year-old daughter.
The jack of all trades recently announced that his organization, Thorn—which builds software to fight human trafficking and the sexual exploitation of children—has helped nearly 6,000 victims in the past year—2,000 of which were minors.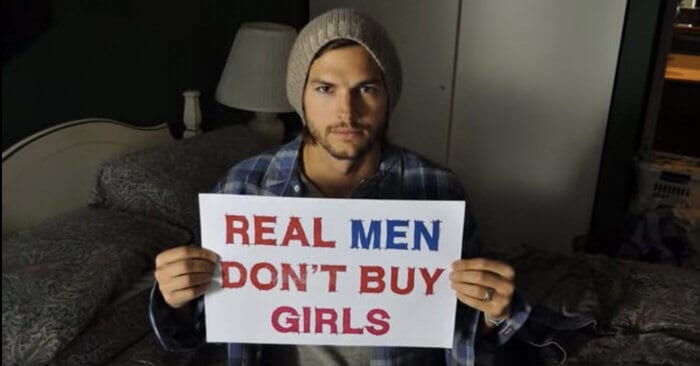 On Wednesday, Kutcher testified at a hearing at the Senate Foreign Relations Committee in Washington, D.C., in hopes of ending modern slavery and human trafficking.
To say that Kutcher's humanitarian presentation was "passionate" would be an understatement.
Seated beside Human Rights First President and CEO, Elisa Massimino, Kutcher opened with a statement regarding his purpose for appearing before congress:
"I'm here today to defend the right to pursue happiness. It's a simple notion. It's bestowed upon all of us by our Constitution. Every citizen in this country has the right to pursue it and I believe that is incumbent upon us as citizens of this nation, as Americans, to bestow that right upon others. Upon each other and upon the rest of the world. But the right to pursue happiness, for so many, is stripped away. It's raped. It's abused. It's taken by force, fraud or coercion. It is sold for the momentary happiness of another."
Kutcher goes on to explain that many perceive his "day job" to be that of an actor. But the reality is that his day job is to be the Chairman and Co-Founder of Thorn—the nonprofit organization he helped start over six years ago.
"For years now, Thorn has been committed to building tech tools to combat child sexual exploitation and facilitating collaborations across [the] tech industry to disrupt these crimes. We have no intention of stopping until we win this battle."
And don't be fooled by his celebrity. This actor is no stranger to dirty work when it comes to being hands-on within his organization.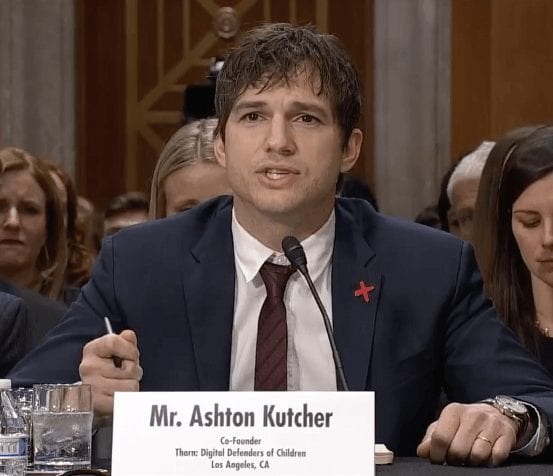 He went on to share some of the horrific things he's seen and experienced during his travels to save children from trafficking. Choking back his own tears, Kutcher described images that are etched into his mind about the abuse he's witnessed.
"I've seen video content of a child that's the same age as mine being raped by an American man that was a sex tourist in Cambodia. This child was so conditioned by her environment that she thought she was engaging in play."
Kutcher then presented the Senate Foreign Relations Committee with a proposal for joining forces in this initiative to end modern slavery: financial resources for building more innovative technology; to join forces in fostering private and public relationships that further the mission; and for law enforcement and government agencies to recognize and act-upon the "pipeline."
"We sit at the intersection of discovery of these victims, but the pipeline in and the pipeline out are just as vital, and just as important."
Through research, experts have learned that there's an extensive relationship between victims of sex trafficking and the foster care system. Kutcher leverages that data to suggest that the in-bound pipeline is a reflection of the foster care system. In order to put an end to slavery, we first have to identify where the victims are coming from—both at home, and abroad.
"There are 500,000 kids in foster care today. I was astonished to find out that 70 percent of the inmates in the prisons across this country have touched the foster care system, and 80 percent of the people on death row were—at some point in time—exposed to the foster care system."
He continued:
"The most staggering statistic I found was that foster care children are four times more likely to be exposed to sexual abuse. That's a breeding ground for trafficking."
Kutcher then provides fact-based evidence to suggest that the foster care system in the United States provides a specific data-set that reflects what happens when displacement occurs abroad. In order to "seriously put an end to slavery," we have to first understand all of the factors that lead to the "unintended consequences of our actions or in-actions."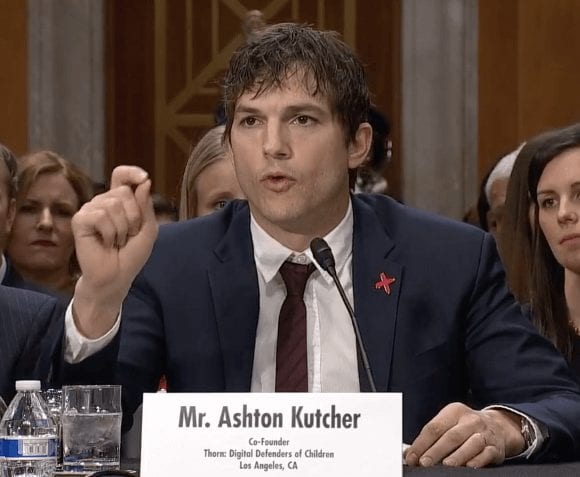 "When people are left out, when they're neglected, when they're not supported and when they're not given the love that they need to grow, it becomes an incubator for trafficking."
After touching on everything from the sex trade industry to modern-day slavery, child pornography, technology, money, the foster care system and the refugee crisis, Kutcher brought everything home with his explanation of the out-bound pipeline—mental health.
"Once someone is exposed to this level of abuse, it's a mental health issue…there's not enough support, and we have to have the resources on the other side."
After calling upon the government to join forces in the fight against modern slavery, the actor closed his speech with a plea to those sitting before him:
"The right to pursue [happiness] is every man's right. I beg of you that if you give people the right to pursue, what you may find in return is happiness for yourself."
https://youtu.be/CoiVmGSvEr0