It would seem that the Eagles had an impact on Lukas during his short life.
But what that incredible 10-year-old never knew was the impact he had on the 24-year-old quarterback.
After beating the Washington Redskins on Monday night, Wentz talked about the Kusters family, who was able to attend the game. He said wearing Lukas' bracelet on his wrist is a constant reminder that "it's so much bigger than football." He said he's been praying for that family for a long time, and doesn't take for granted the opportunity to make an impact.
Lukas lost his battle with stomach cancer on June 12, just four days after his 10th birthday, and two weeks after his Make-A-Wish day with Wentz and the Philadelphia Eagles. He was buried wearing Wentz's No.11 jersey.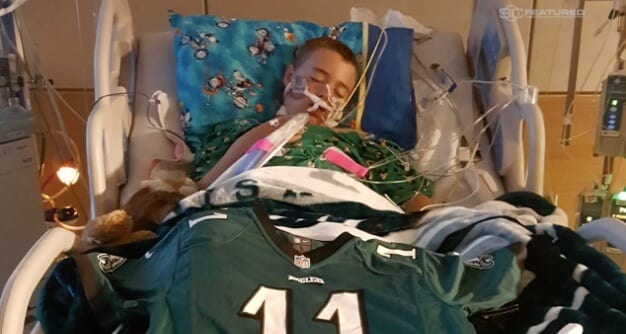 "When his family told me that at training camp," a clearly emotional Wentz told ESPN, "I was—just got done with a hot, long, sweaty practice, and I was trying not to tear up hearing that from his family. To think that—that he's buried wearing my jersey… It's so much deeper than football is what it comes down to. It's so much more than just a game. Impactful. Meaningful. Powerful. And just another reminder for me that it is more than a game; that it is an opportunity to do good, whatever that is, whatever that looks like, and to just be authentic and genuine with people."
It wasn't until September 10, when the Kusters family turned on the first Philadelphia game of the season, that they realized just the impact their son had on his own idol.
"What we see is Lukas' bracelet, right on his wrist," Rebecca Kusters said of seeing Wentz take the field. "It was humbling. And just a proud moment for us—blown away that he continued to hold onto that and carry that with him… It is not just a rubber bracelet. That's a little boy's dream, right there."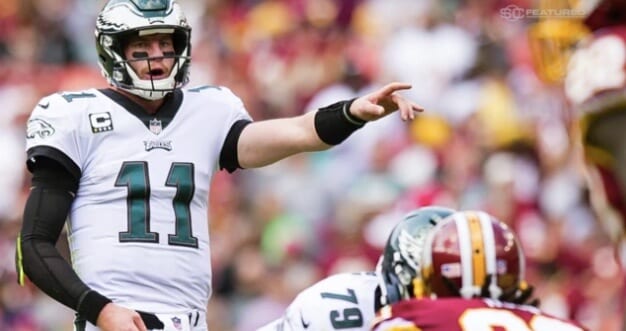 Wentz told reporters after the game on Monday that he was able to connect with the family prior to kickoff. He even went out of his way later on to give them the ball from his touchdown pass to Zach Ertz, and gave the youngest son the hat off of his own head.
If Carson Wentz, and the heart behind the 2017 Philadelphia Eagles, doesn't bring you hope in this season riddled with negativity, I don't know what will. There's nothing better than seeing professional athletes making Kingdom strides on the football field. With millions of people watching each week, it's safe to say that Wentz is onto something in his quest to remind others that it's about a whole lot more than football.
Now that's a role model we can get behind.