Harvest Christian Fellowship pastor Jarrid Wilson died by suicide on Monday evening (September 9) at age thirty.
The devout husband and father of two was known for his passionate preaching, servant's heart, and mental health advocacy. In fact, Wilson is the founder of Anthem of Hope, a faith-based organization 'dedicated to amplifying hope for those battling brokenness, depression, anxiety, self-harm, addiction and suicide.'
The tragic news of Wilson's untimely death comes on Suicide Awareness Day (September 10).
In alignment with his passion to shatter the stigma surrounding mental health, Wilson was often open about his own battles with depression on his social media accounts.
Wilson even posted about officiating a funeral for a woman who took her own life on the day that he took his own.
Later that afternoon, the pastor wrote some hard truth regarding the reality of mental health battles, citing that while Jesus isn't always "the cure," he IS always the "comforter" and "companion."
"Loving Jesus doesn't always cure suicidal thoughts," wrote Wilson. "Loving Jesus doesn't always cure depression. Loving Jesus doesn't always cure PTSD. Loving Jesus doesn't always cure anxiety. But that doesn't mean Jesus doesn't offer us companionship and comfort. He ALWAYS does that."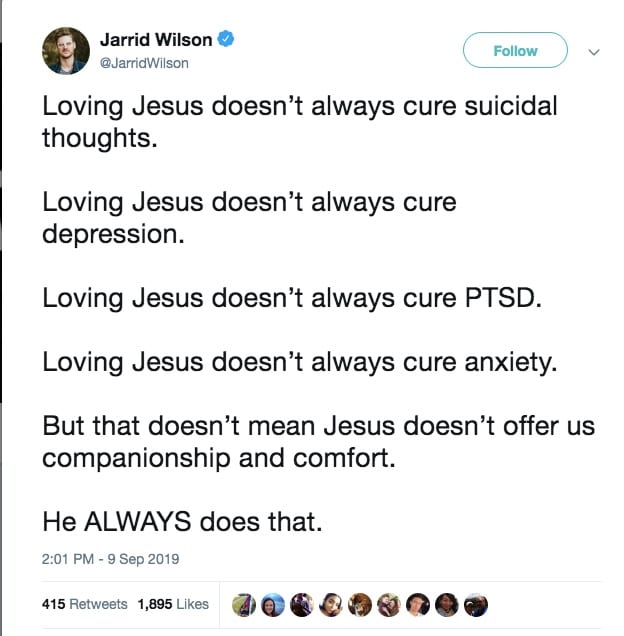 Jarrid's wife Juli posted a heartbreaking tribute to her late husband today, honoring his hard-fought battle and the great man of God that he was in spite of his struggles:
"My loving, giving, kind-hearted, encouraging, handsome, hilarious, give the shirt of his back husband went to be with Jesus late last night .

No more pain, my jerry, no more struggle. You are made complete and you are finally free. Suicide and depression fed you the worst lies, but you knew the truth of Jesus and I know you're by his side right this very second.

I love you forever, Thomas Jarrid Wilson, but I have to say that you being gone has completely ripped my heart out of my chest. You loved me and our boys relentlessly and we are forever grateful that i had YOU as a husband and a father to my boys."