There are more people on Facebook today than there were on the entire planet just 200 years ago. In a world where news travels faster than it happens, smartphones capture every waking moment of people's day, and social media literally dictates people's lives, people are more interconnected in 2017 than ever before.
New things are going viral every day, and the term "15 minutes of fame" has taken on a whole new meaning. (Need I reference Danielle Bregoli—the "Cash me ousside" teen?)
But what about the people whose 15 minutes of fame lead to a lifetime of pain.
Meet Jennifer Wilkinson.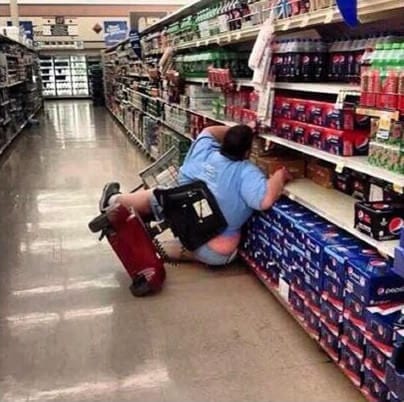 "This is my 15 minutes of fame. If you check sites such as the People of Walmart or Reddit you will most likely find this photo."
Just about five years ago, this photo was snapped of Jennifer without her permission or knowledge, and is still being used today as a "funny" meme.
But there's nothing funny about it.
"The worst thing about this photo is that people think a fat woman tipped over a cart because she was too lazy to get out of the cart to get the case of soda."
Let's be honest—even if that were the case, we are put on this earth to love each other like Christ loves us, and to lift each other up, not judge someone's struggle and humiliate them for it.
In a piece she wrote titled "What You Should Know If You Laughed at This Viral Photo of Me," Jennifer explains that what really happened in this moment was the result of a spinal condition she's battled for several years—spondylolisthesis.
It essentially causes weakness in her legs, and limits her lower back support, causing this wife and full-time mom to experience chronic pain and a proneness to falling.
In addition to her spinal condition, Jennifer has battled mental health issues, which she says has led to her obesity. "I have used eating as a way to cope."
"I [sic] was experiencing a lot of pain and weakness that day. I took a cart because I was grocery shopping for my family. I went to get a case of soda for my husband [sic], and I turn and tried to grab a case off the shelf and the cart tipped. I thought I saw a flash of light and heard some young girls giggling."
Jennifer says she's used to getting made fun of by people, or hearing chuckles and snide remarks in public, so she didn't think much of it at the time.
"A few months later, I see this photo on a site making fun of people of Walmart. I have also seen this photo attached to stories that aren't even true about this situation."
She says the one thing that helped ease the sting of embarrassment and humiliation was the fact that the photo did not capture her face.
"The reason I am sharing this is because people think it is funny to laugh at people with disabilities. You cannot see my disabilities but they are there and they are real. So next time you see photos making fun of people just remember you know nothing about these people or the struggles they face every day. It is never just harmless fun to laugh at someone."
Jennifer closed her article with this final plea for compassion and a little human dignity:
Obese people are treated as less than human and as something to ridicule. I just want people to be aware that fat people are people too. I just want to get something clear – I am not asking people to accept or condone obesity. Obesity is a major health problem causing many illnesses and diseases. I also am not asking people to pity or feel sorry for me. What I want is compassion, understanding, and respect as a fellow human being. I am a person. Please treat me like one!