Candace Cameron Bure is one tough cookie when it comes to haters bagging on her beliefs. The "Fuller House" actress is widely known for her Christian principles, and despite being under constant fire for proclaiming them, Candace holds her own.
"Everyone who acknowledges me publicly here on earth, I will also acknowledge before my Father in heaven. But everyone who denies me here on earth, I will also deny before my Father in heaven." Matthew 10:32-34
Last week, Candace posted a picture to Instagram wearing a shirt that reads, "Not Today Satan."
The term "not today, Satan, not today," was apparently coined by drag queen Bianca Del Rio during the 6th season of RuPaul's Drag Race, though the phrase has been around forever. Upon seeing the photo of Candace sporting "her term," Del Rio started a full-on Instagram war against the Christian actress writing, "IF ONLY, THIS HOMOPHOBIC, REPUBLICAN KNEW……… 😈?😈?"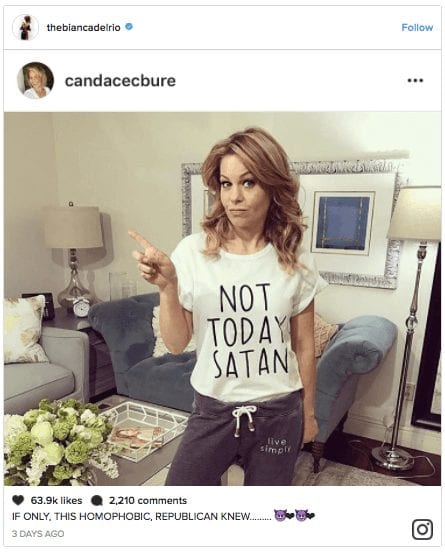 Del Rio's fans took to Candace's Instagram as a bunch of trolls, slamming her for her beliefs and telling her to "look up where that quote comes from."
The drag queen has a merchandise line that widely displays the phrase, and it's also the name of her most recent tour. 
However, a quick search of the phrase on Etsy brings up its own category titled "Christian Shirts," and there's a plethora of products like coffee mugs and wall prints with the phrase, sold by Jesus-loving vendors.
The shirt that Candace was sporting does not appear to be one that is sold on Rio's website.
Here's the deal, regardless of the fact that a celebrity supposedly coined the term "not today, Satan," the statement is one of empowerment no matter who you are—especially for those who are in the trenches of spiritual warfare on a daily basis.
We know in all things, the more we chase after God, the stronger the enemy will come against us. I'd like to think that even though Del Rio stakes claim on coining the phrase, Jesus thought that one up long before she ever came along.
Because Jesus is for us, so not today, Satan.
In John 17:15, Jesus prays for us—not that we would be kept from hardship or suffering, but that we would be kept from the evil one—Satan.
"I have given them your word, and the world has hated them because they are not of the world, just as I am not of the world. I do not ask that you take them out of the world, but that you keep them from the evil one." John 17:14-15
Of course it's all in the way you interpret things.
"People of the LGBTQ community are tired of straight cis people taking things from us and using it for their own and not crediting community," one person wrote. Another added, "To go against gay rights, to sh*t on our lives, and then parade yourself around in OUR clothing and OUR phrases is insulting."
As always, Candace responded with PURE class:
"I'm not homophobic and [it's] always sad when people think otherwise. Loving Jesus doesn't mean I hate gay people or anyone. You sent a bunch of hateful people to my page writing horrible things. I hope next time you'll spread love and kindness, even when you disagree with people. Sending you love and wish you all the best. Truly. —Candace"
Del Rio shared a screenshot of the comment on her Instagram, further trolling Candace, and ultimately portraying what true immaturity looks like.
It can't be easy to live in the Hollywood spotlight bubble. I can't imagine the battle that Candace openly and willingly takes on in the name of Jesus Christ every day, but it reminds me of Ephesians 6, where Paul encourages us in our fight against evil.
Because, not today, Satan.
Put on the full armor of God, so that you can take your stand against the devil's schemes. For our struggle is not against flesh and blood, but against the rulers, against the authorities, against the powers of this dark world and against the spiritual forces of evil in the heavenly realms. Therefore put on the full armor of God, so that when the day of evil comes, you may be able to stand your ground, and after you have done everything, to stand.  Stand firm then, with the belt of truth buckled around your waist, with the breastplate of righteousness in place, and with your feet fitted with the readiness that comes from the gospel of peace. In addition to all this, take up the shield of faith, with which you can extinguish all the flaming arrows of the evil one. Take the helmet of salvation and the sword of the Spirit, which is the word of God." Eph. 6:11-17