Every girl dreams of the fairytale romance, and marrying their best friend. Part of me believes that most guys dream of this too, just without the fairytale theme.
With the help of Pinterest, you can bet that any girl you talk to has their entire wedding pinned on the Internet, and thanks to rom-coms and epic love tales, every woman swoons over the thought of a beautiful romance.
Cady Kendall had just that.
Jordan Lewis and Cady Kendall's love story is one that could compete with even the greatest romance novels of all time. Seriously, John Greene and Nicholas Sparks have nothing on this duo.
In just a few short years, it's as though they were able to experience 75 years of true, passionate and inspiring love.
After meeting their junior year of college at Oral Roberts University in Tulsa, Oklahoma, Cady and Jordan would have never guessed where their journey would take them.
Jordan was known around campus as a man with a kind heart and warm demeanor. Cady had heard of Jordan, but they had never met.
When the homecoming dance came around, Cady's friends prompted her to attend. With no interest in the night whatsoever, she declared she would "only go if she went with Jordan Lewis." To her surprise, he called her just a few days later, and the two of them attended together.
The night of the homecoming dance, they stood together on the rooftop of the Mayo Hotel, watching the lights over downtown Tulsa. Little did they know, this spot would be a special place that they return to time and time again.
Summer was close and they both had commitments. Cady would be in Buffalo, New York, for an internship and Jordan was headed on a mission trip to Tanzania, so they decided not to jump into anything. They decided to be "just friends" and re-evaluate when they returned back to school in the fall.
God had different plans.
Jordan's mission trip to the bush of Tanzania required a lot of preparations and intensive training. Cady was a volunteer for the training sessions, which meant that the two of them got to spend a lot of time together.
She fell in love with him.
"I had watched him that entire time and was just astounded at what kind of a man he was," Cady says. "To me, it was evident that he was the strongest, yet most gentle person on that team."
Soon they each left for their summer adventures, and with Jordan being in a remote village in the bush, Cady knew she wouldn't be able to see or hear from him for the next month. Thoughts of Jordan were constant in her mind as she prayed for him, his travels and his incredible journey while he was away. Cady also wondered if their attraction and special moments they shared would be forgotten.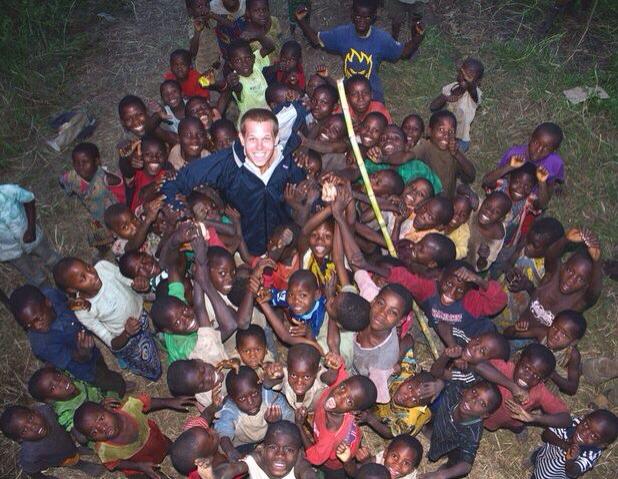 To her surprise, Jordan texted her as soon as he was back, and asked for permission to call her. "We were really old-fashioned in our dating," she laughs.
Cady was still in Buffalo for one more month, but they were both anticipating the coming school semester, knowing that they'd be closer than ever.
Then one day, she got a phone call from Jordan that changed everything.
He told her that while in Tanzania, he had experienced severe nosebleeds. They were so bad that blood was passing through his eyes. During their last month of phone calls and before returning to school, Jordan had been seeing doctors in search of a cause.
Two days before his 21st birthday, Jordan learned that there was a large tumor lodged in his brain and pressing on his optical nerve. The malignant tumor was the size of a woman's fist, and he was diagnosed with a rare form of stage 4 sinus cancer.
Jordan told Cady that he was going to move back home to Raleigh, North Carolina, to be with his family and begin aggressive cancer treatment. He went through radiation twice every day and chemotherapy once per week.
Feeling lost and confused about what to do after that phone call, Cady reached out to her mentor.
"She said, 'Cady there are two things you can do: You can either act out of love or you can act out of fear.' I knew in that moment I was going to stay by his side the entire time. Whether we're dating or best friends, I knew that I was already in love with him. I would follow him anywhere."
In the fall Cady returned to Oklahoma and started her final year of college—without Jordan. Over the semester, the two exchanged packages in the mail and continued to nurse their beautiful friendship, as it grew stronger by the day. They would talk on the phone once every week, which was all that Jordan could handle because his radiation treatments had badly burned his vocal cords.
After six months of treatments, on December 22, 2011, Jordan got news that he was cancer free. He returned to ORU in time and to graduate with full honors that spring.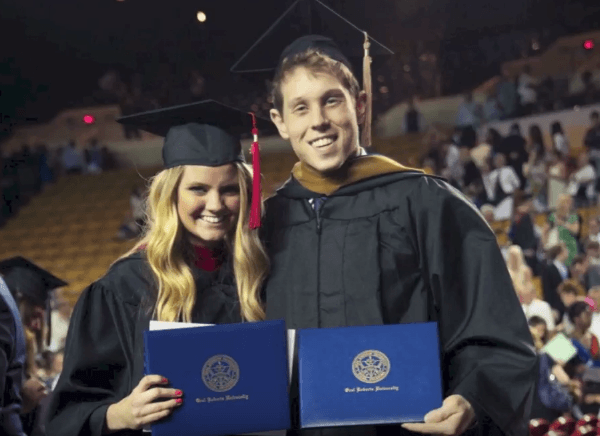 Finally, Cady and Jordan were back in the same place at the same time. One year after their very first date, Jordan escorted Cady to their final homecoming dance, this time as Homecoming King and Queen.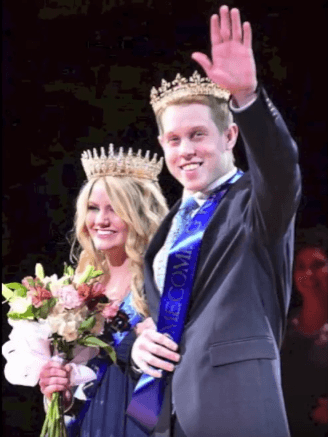 Again they found themselves on the roof at the Mayo Hotel.
As they stood on that same balcony overlooking downtown, Cady remembers, "I looked at him and said, 'Can you believe this? Can you believe what we've been through and here we are standing at the same place we were one year ago, but this time you've conquered cancer, you're graduating on time?'" She continued, "And we just sat there quiet again, in awe of what can happen in a year." Later that night, Jordan formally asked Cady to be his girlfriend.
Their journey was already one for the storybooks, and that was only the beginning.
For the next year and a half, Cady and Jordan lived and loved each other happily, and cancer-free. In May of 2013, they planned a long trip to Raleigh to spend time with friends and family, and visit doctors for Jordan's follow-up screenings. Test after test confirmed that Jordan's sinus cancer was still gone.
But after the final screening, the doctor delivered news that would again test their strength. A number of small tumors had shown up in his lungs. As the oncologist spoke, Cady stood, walked across the examination room to Jordan and whispered in his ear: "I'm getting married to you. And I'm going to walk through this journey with you, this time as your wife."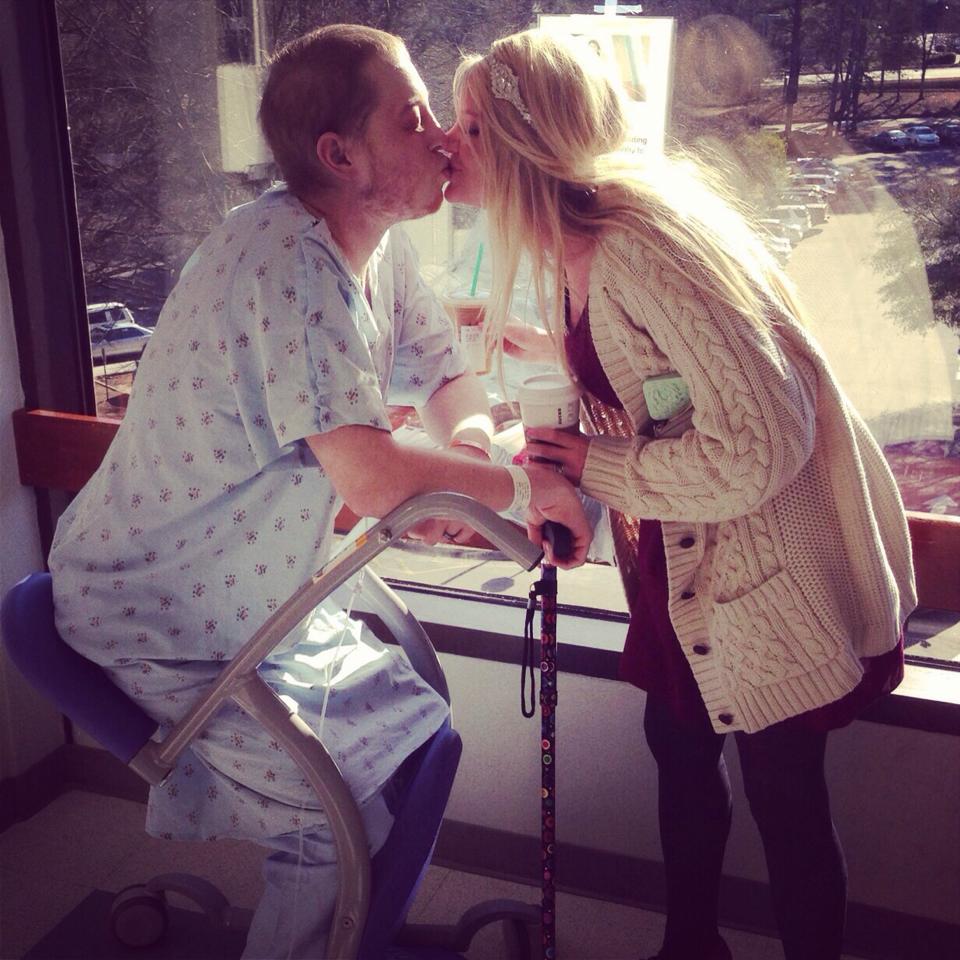 When she recalls that moment now, Cady says it was almost like a dream. "I don't remember even thinking about it, my feet were just walking, my mouth saying the words. It wasn't a debate. There wasn't a question in my mind that I was supposed to be with him."
Though the trip had taken a terrible turn, and news of Jordan's diagnosis had rocked their world, Cady felt an incredible peace.
"It felt like I was made for this moment, to be with Jordan and to fight this with him," she says. "But at the same time it's also scary because the one person you love more than anything in the world is going to have to go through extreme suffering, and that was frightening to me."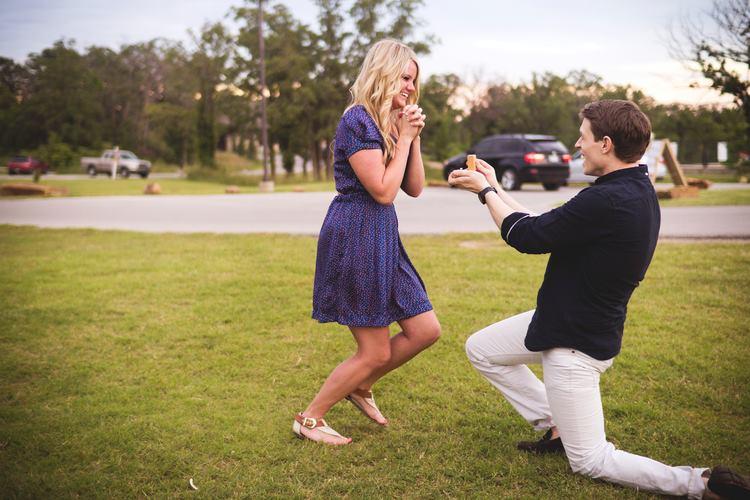 Four weeks later, with the funding, time, love and support of their incredible community, the couple was married.
The reception had baked goods made by neighbors, the venue was donated by friends. The now Mr. and Mrs. Jordan Lewis spent their honeymoon night in a suite at the Mayo Hotel. That night they stood on the rooftop together for the third time—now as a married couple.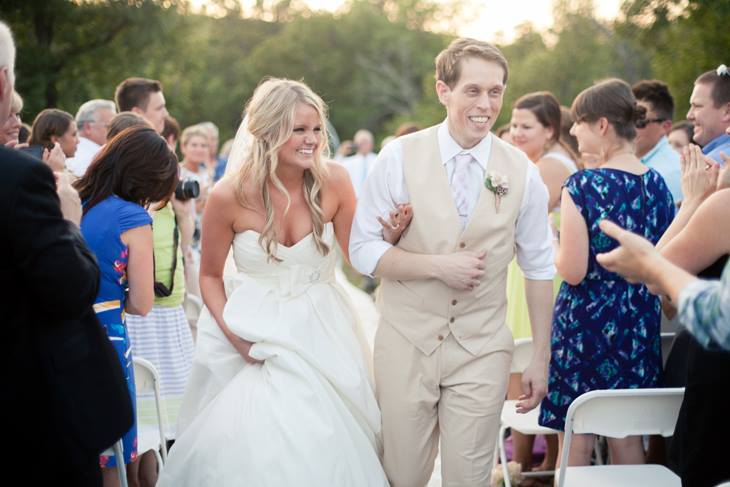 Jordan and Cady were strong. They are born fighters, and regardless of the bad news that continued to follow, they clung tight to their faith and to each other.
Cady talks about their struggle in true biblical fashion, as if they were one person—each fighting half of the same fight. He was physically fighting cancer, while she was fighting the emotions that continuously flooded them. Together they were wholly consumed with surviving.  
After the cancer had spread throughout Jordan's body, one doctor told him that he would be blind within the week. That evening, Jordan took to the couple's blog and shared a glimpse of his determination and perseverance. Jordan wrote, "Blindness is not an option. Death is not an option. I will live a long prosperous life with perfect vision. I write this as a call to arms. A desperate plea for prayer and faith."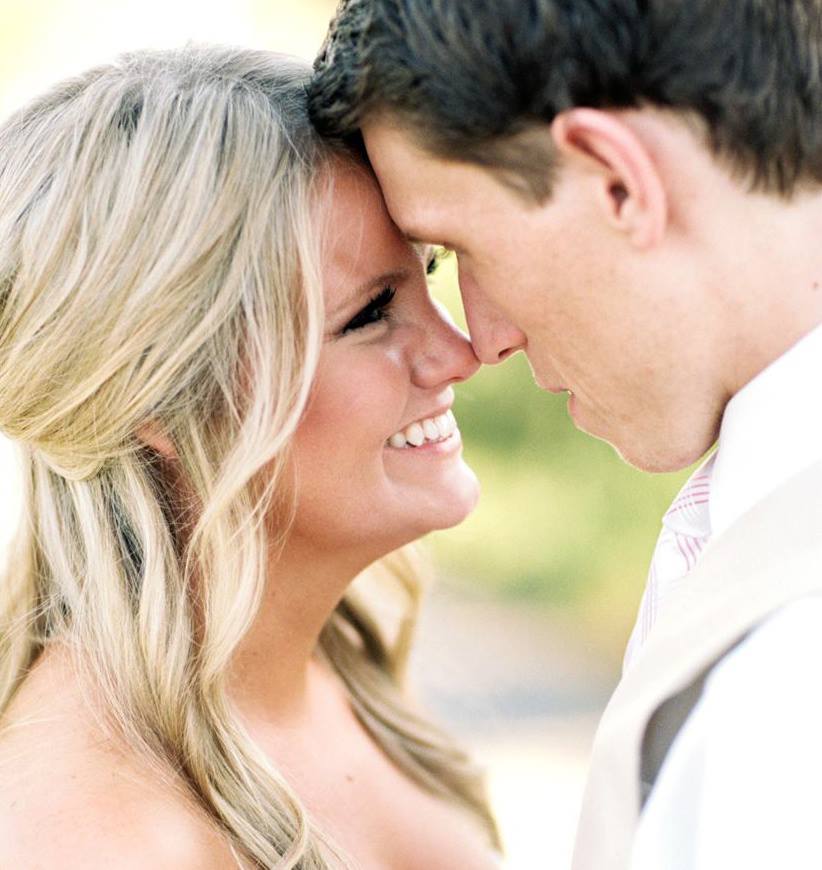 No matter his physical state, they loved each other deeply and selflessly. The kind of love that some people only dream of. He gathered birthday presents for her at his weakest, and she traveled across the country with him for treatments. When he lost his mobility, Cady bought him a wheelchair and cried in a bathroom stall the first time they had to use it in public.
On their way back to Raleigh from Tulsa, she wheeled him up to a handicap table at a restaurant and remembers thinking, "No one knows my husband is the strongest man in the world. No one knows that he is six feet tall. They only see he is in a wheelchair."
Despite Jordan's fatal diagnosis, their marriage was filled with happiness and joy. They chose to focus on their three years of wonderful memories together, and not fear the future.
Of their nine months of marriage, they spent three together in his hospital bed.
On March 20, 2014, Jordan took his last breath at the age of 23. As he exhaled one final time, Cady's lips hovered over his, as she whispered "Jesus" like a prayer. It was the last kiss they ever shared.
She later wrote on their blog, "Every moment was so rich in love and life that it seemed like we truly were married '75 plus years.' God let me be with His precious lamb for almost nine months, and although it didn't seem long enough to me, I still got the depth of a pure and fearless love that one would get in 75 years of marriage. I got my dream, but in a different way than I had hoped."
As C.S. Lewis describes it, when one loses a spouse they become an amputee. We have to re-learn how to live life without the other half.
Cady says, "My perspective on life shifted, accepting the word 'widow' means embracing all the lessons I have learned through losing my husband. It means embracing a new way of living with others and celebrating their lives." She hopes to share her story with others, believing that they will find comfort in her words, but also seeking for Jordan's legacy to live on.