When it comes to keeping us on our toes, there's no one we can count on quite like Ellen DeGeneres. In an episode last summer, guests were expecting a lighthearted segment all about Finding Dory… but instead, they found themselves wrapped up in the courageous story of a mother and daughter who had no idea that THEY were about to become the center of attention.
Mid-show, Ellen received a phone call from her receptionist, Jeannie, who had a message that simply couldn't wait.
"So I'm sitting at reception and I'm going through emails, and I've found one that I think you've really gotta hear because I actually think these people are in the audience today," Jeannie told the show host, as she proceeded to read it aloud.
It turns out, that email was from Kim Jeger, a young woman who had been battling cancer alongside her mother Becky—who had no idea about her daughter's gesture.
In her message, the 30-year-old explained that she is a breast cancer survivor who was having a tough time after recently discovering a new lump, but it was Ellen's show that has been her source of inspiration and positivity amidst the pain.
"I am a strong person, but right now, I'm scared," wrote Kim. "It was just last year that I had to go through multiple surgeries and over five months of chemo. My mom also had stage 4 cancer last year, so it's been a rough go. I do my very best to stay positive, and today your show keeps me going."
As Jeannie read Kim's words to the audience, the sweet mother-daughter duo was spotted welling up with tears of unspeakable joy in the crowd.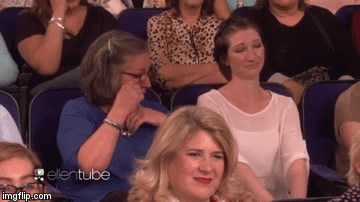 Ellen invited the Jegers up on stage to share more of their inspiring story—and as always, she had some serious surprises up her sleeve, particularly for Kim's upcoming wedding.
Watch as Ellen presents the now cancer-free bride-to-be with something old, something new, something borrowed and something, well… green. 😉