Every girl grows up dreaming about her wedding day. It's one of the most special and important days of anyone's life, and one that will never be forgotten.
When Lisa married her now-husband, Paul, in August 2016, the day was perfect. After saying "I do," the happy new couple headed into their reception, where Lisa's dad, Dave White, gave his toast to the bride and groom.
Following his speech, the happy father walked over to the bride to lead her in the father-daughter dance. The tradition is standard in most weddings, as it's such a special moment between a girl and the first man she ever fell in love with.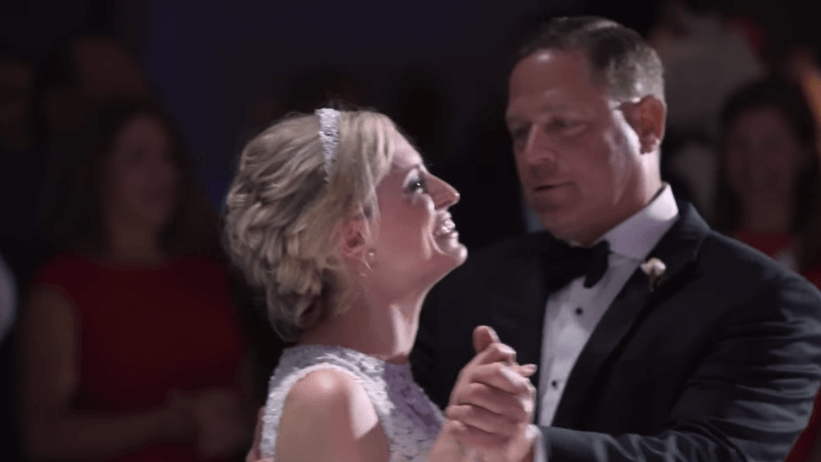 For Lisa, there was no better song for the moment than Tim McGraw's "My Little Girl." Being the huge country music fan that she is, Lisa and her dad picked the song months earlier. She knew it would be perfect—she just didn't realize how perfect.
As they took their places on the dance floor, Dave strategically took his daughter in his arms, and faced her away from the stage.
When the music began to play, Tim McGraw walked out onto the stage and began to sing right to Lisa and her dad! She was completely shocked—as was everyone else in attendance. Dave was the only one in the whole room who knew about the surprise!
Now there's a guy who can keep a secret!
"It took everyone about 30 seconds to realize what was happening," Paul said.
As Tim McGraw closed the song, he walked down from the stage and embraced Lisa in a bear hug. He then hopped back up on stage and played for another 45 minutes—giving the bride and groom, and all of their guests, an exclusive wedding "concert" in their honor!
Paul later tweeted a picture of he and Lisa with Tim, thanking the country star for making their wedding night "so awesome."
Watch this beautiful surprise unfold in the endearing daddy-daughter dance video below: