From the time we're kids, most of us spend our lives thinking about who we'll marry, what they'll look like or if we'll ever find "the one."
Then there are some people whose romantic love stories are years in the making. For Sarah Lloyd and Nick Stanford, it was decades.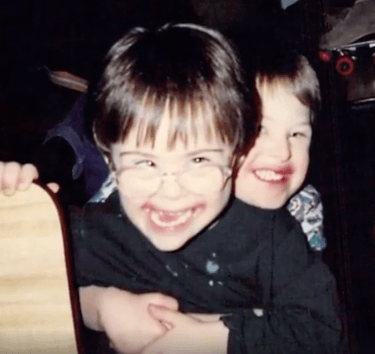 The two met when they were just three years old, attending pre-k at Eanes Elementary School in Texas. Both Sarah and Nick have Down syndrome, but even at a young age, their connection was instant and undeniable.
"My boyfriend, he's strong, he's brave and he's a fighter," Sarah said.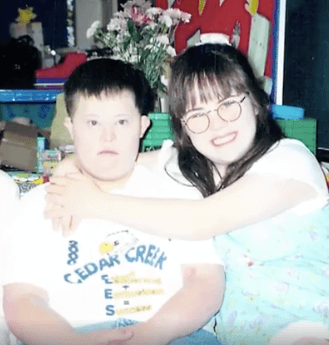 Through the years, Nick and Sarah's friendship and love remained strong and ever-growing—even when they had to move states away from each other. With the help of technology, they stayed close, and after nearly two decades of dating, Nick finally worked up the courage to take the next step.
"I thought it was time to make it official to get married," he said. "So I came down to Austin, Texas, to see Sarah and ask her for her hand in marriage."
Nick picked one of Sarah's favorite places—Chick-Fil-A—because what better place to get married than the home of both Truett Cathy and the Lord's Chicken?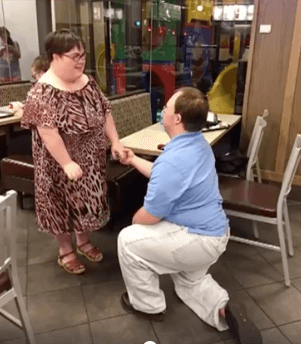 "The day he proposed to me at Chick-fil-A, it's kind of heart-touching for me because when he got on his knee, I didn't of course know he was going to do it for real, I just got shocked when he proposed to me," Sarah said.
The newly-engaged lovebirds are working to become more independent so that they can get married in 2019.
Sarah says she's always dreamed of her "Prince Charming," and for her, Nick is just that.
Childhood sweethearts get engaged at Chick-fil-A

HEARTWARMING PROPOSAL: It's a love story decades in the making for this Texas couple, and the heartwarming proposal happened in at an unconventional location.

Sarah Lloyd and Nick Stanford both have Down Syndrome and met in school when they were just 3 years old. bit.ly/2prm0Gb

Posted by FOX 26 Houston on Sunday, April 16, 2017