Country sensation Shania Twain is making quite the comeback with her Las Vegas 'Let's Go!' residency to close out 2019 and bring in the New Year.
Though she's been out of the limelight for a while, Twain's November 24th AMA performance was living proof that the singer is 'Still The One.' The country diva stole the show with a medley of covers that included Post Malone's "Rockstar," Twenty One Pilots' "Stressed Out," Taylor Swift's "Shake It Off," and even Drake's "God's Plan."
She then hit the stage with a few of her own hit singles, finishing the set with "That Don't Impress Me Much" and "Man, I Feel Like A Woman."
Her nostalgic performance even had Post Malone dancing along like a giddy 90s teenager:
Post Malone is having a good time! #AMAs #ShaniaTwain pic.twitter.com/8arIddYkte

— The Voice Inside Me (@TheVoiceInside6) November 25, 2019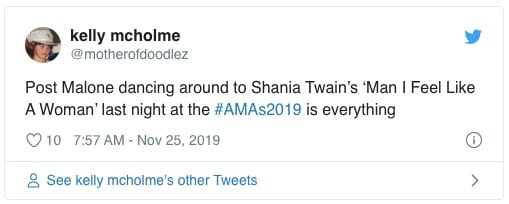 The 54-year-old who recently made headlines for calling out radio stations for being sexist and ageist proved that her talent is timeless as she took over the Twitterverse.
"Twitter blowing up with Shania Twain is my favorite kind of Twitter," wrote one fan.