Look up the term "Jack-of-all-trades," and I'm convinced you'll find Tim Tebow's name right next to it. The 29-year-old college standout made a name for himself at the University of Florida before diving head-first into an NFL career that later turned into a minor league baseball career.
His athletic accomplishments are reputable. But it's what Tim Tebow does off the field that really deserves a trophy.
Not only does he absolutely love Jesus Christ and His people, Tim also has a heart for missions. In 2015, he opened the Tim Tebow CURE Hospital in Davao City, Philippines—a country his family holds near and dear to their hearts—and he hopes to one day get married to a God-fearing woman who wants to raise a small village with him. (How's that for a dating profile?)
When he's not at batting practice, or openly talking about his faith at a press conference following a game, Tim spends his time doing charity work. It's had a major impact on communities across the globe.
For the past three years, the Tim Tebow Foundation has held a worldwide prom event called "A Night to Shine." Every year on the Friday before Valentine's day, people with special needs are celebrated in this one-night event. Each guest shows up to walk the red carpet in true celebrity fashion. They're pampered by hairdressers and makeup artists, then everyone hits the dance floor for a prom night like no other.
YouTube
This year, A Night to Shine was held at more than 375 locations worldwide, in 11 different countries. Tim says it's his favorite night of the year.
On Wednesday night, Tim appeared on the Tonight Show where he and Jimmy Fallon talked about the success of the event. But that wasn't all he was there to do.
Tim had a special girl in the audience—Judy Adams.
Judy attended the Night to Shine event in New York this year, and even asked Tim to be her date. Due to a conflict in his schedule, he was unable to accommodate. But in true Tim Tebow fashion, he delivered something even better.
Tim invited Judy and her mom to come to the screening of the Tonight Show. Then during his interview with Jimmy, Tim turned toward Judy and asked her to dance with him—right there on the stage!
Judy's reaction was priceless, and Tim even had a corsage to put around her wrist!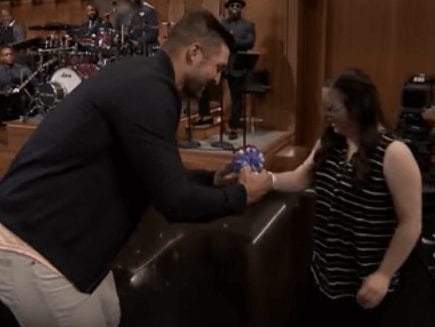 Just when we thought Tim Tebow couldn't be a better human and role model, he pulls a stunt like this and has us all "fighting allergies" at our desks at work.
So much respect for this incredible athlete who regularly demonstrates what it means to be the hands and feet of Jesus upon the earth.