For most people, air travel is a real pain in the butt. I mean, sure, it gets you where you're going in a fraction of the time it would if you were to drive, but it's still quite the process — and not one that tends to be pleasant.
I won't name names, but there's one particular airline that I'm convinced has enlisted IKEA as their interior designer, resulting in the tiniest, thinnest, hardest seats you've ever placed your behind on. But, I digress.
Whether you fly on a weekly basis for work, or every couple of years to see a new place, I think it's safe to say that nothing is more daunting than air travel with children.
Some kids are natural travelers. They get on the plane, kick up their feet and get lost in Peppa Pig for hours. But we've all been on a plane that has a screaming baby or a kicking toddler that literally takes the stresses of air travel to a whole new level.
It's human nature to get irritated under high-stress situations, but it's how you respond that makes all the difference. When it involves kids in a small, cramped space, what's a person to do?
Here are 9 Airplane Pictures that will restore your faith in humanity today.
A father who was traveling with his 2-year-old daughter found himself in an overwhelming crunch when he arrived at the ticket counter and realized his miniature traveler was not ready for takeoff.
Most airlines allow children under the age of 2 to fly for free. However, they still need a ticket for travel purposes.
When the father got to the gate and learned he had to purchase a ticket in order for the pair to get on the plane, he was in total distress. He couldn't afford to rebook, nor could he afford the $749 ticket that his daughter now required to get on the flight.
It turns out the airplane wasn't the only thing with wings that evening. Another passenger approached the ticketing counter and literally became that father's angel, pulling out her credit card and spreading generosity with pleasure.
Rachel Lewis claims to be a master traveler with children. She's got it down to a tee. Except for the one day that she didn't. After overestimating her allotted time for packing and preparations, Rachel found herself checking in, with an infant, just 30 minutes before her plane was scheduled to leave.
After scrambling to get herself, her baby, and ALL the things through security in time, Rachel realized her daughter had soiled her diaper over an hour ago, and there had been no time to take care of it.
When she finally got to the gate, boarded the plane and sat down, a flight attendant approached her with an unusual proposition.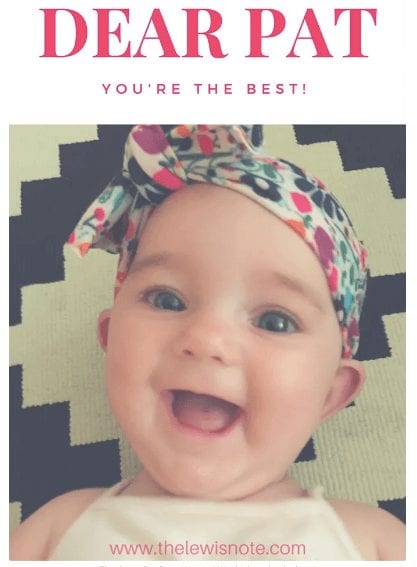 While on vacation away from her kids, Kesha Bernard found herself flying with a toddler on her lap for all the right reasons.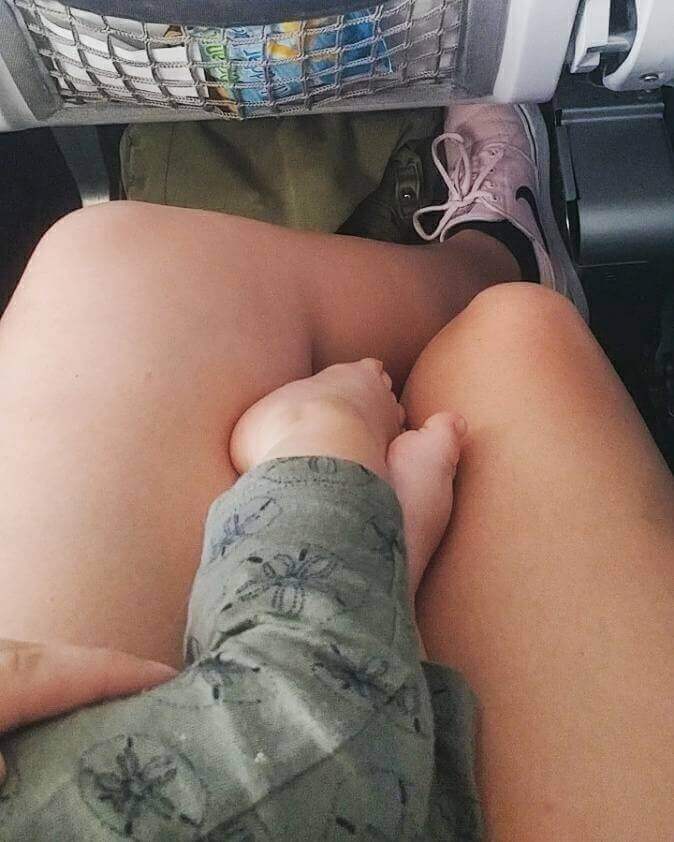 After boarding her flight, Kesha, along with the 100+ other passengers became the audience for a 3-year-old's full-blown meltdown.
It was only a matter of minutes before passengers around her began to chime in, making rude remarks about the mother, and even going as far as grabbing her child's foot to scold her.
Kesha says she couldn't take the madness. She stood up, walked a few rows back to where the commotion was taking place and asked the mom how she could help. Immediately, the mother handed over her baby, and Kesha made her way back to her own seat for takeoff.
"Complaining and mumbling" doesn't do anything for anyone. It just makes the helpless feel even worse than they already do. She says it's because raising kids takes a village, and having a 3-and-4-year-old of her own, Kesha was happy to lend a hand.
While traveling to Phoenix from Atlanta, airplane passenger Richard V Gotti witnessed something absolutely wonderful. An older gentleman on board began experiencing heart problems, which soon resulted in a medical emergency at 30,000 feet.
" I watched strangers from all over the world and every ethnicity come to the help of this man for over an hour!"
As strangers took turns doing everything in their power to keep this passenger alive, one fellow flyer took it upon himself to comfort the family. Turns out that good Samaritan was none other than Tim Tebow.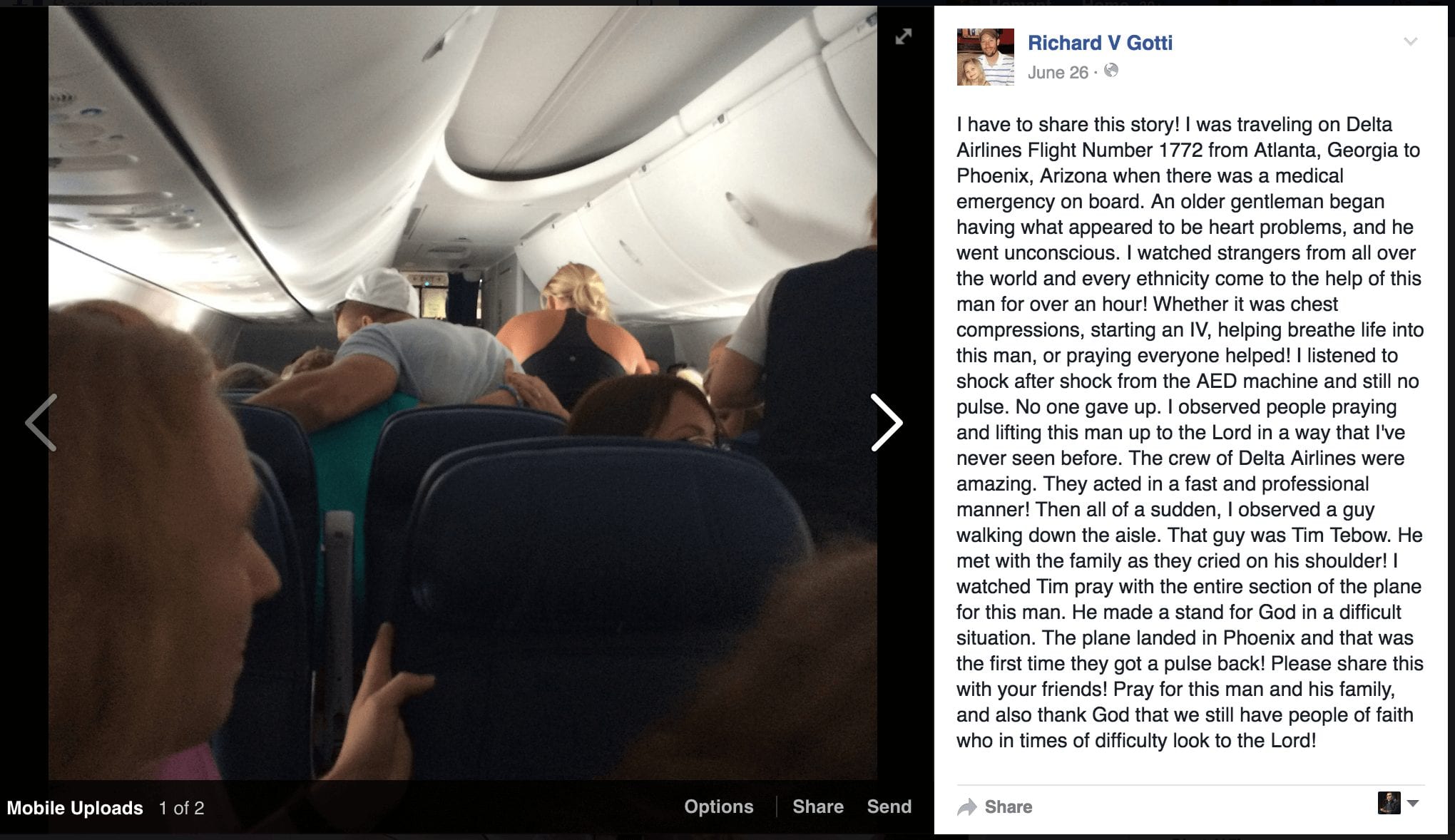 Known for his faith, it's no surprise that Tebow lent a shoulder to cry on before leading an entire section of the plane in prayer for their fellow passenger.
When the plane landed in Phoenix, they were finally able to get a pulse for the first time the entire flight. It just goes to show the POWER of prayer when brothers and sisters lift each other up.