We've all heard it said that the Word of God is mighty, all-powerful and everlasting. In 2 Timothy 3:16-17, Paul asserts that the Bible is "God-breathed," meaning God had a hand in everything that was written in it, and God still speaks actively to people as they read the Bible today. But when horrific tragedy hits in instances like what happened to the World Trade Center on 9/11, many find it difficult to hold firm to that Truth. Even as Christians, we often question how is it that a loving God would allow such evil and mass chaos? 
Though we may lack the understanding of God's ways in extracting beauty from this broken world, it is quite awe-inspiring when He sends us an undeniable message of hope amidst the devastation. Times like these remind us that the Bible is a living Word.
Such was the case when one firefighter was sifting through the rubble on Ground Zero after the 9/11 attacks on the twin towers. In March of 2002, he was with a crew sorting through the rubble and remnants of the south tower, when he made an unthinkable discovery: a Bible fused to a chunk of steel. Strangely, pages from this 9/11 Bible remained, and the page the Bible was open to was particularly interesting.
An Artifact: the 9/11 Bible
In shock, the firefighter immediately brought the treasure to Joel Meyerowitz, who was the photographer assigned to work on Ground Zero for nine months. He, too, was there in the South Tower, looking through the rubble, seeking artifacts to archive that might tell the story of the people and their experience during the 9/11 attack.
"This shredded, burned and rubble-covered Bible came to me from the loving hands of a fireman who knew that I was the record keeper of ground zero," said the photographer, according to a report by The New York Times.
Meyerowitz, the author of "Aftermath: World Trade Center Archive", was totally speechless when his eyes fell upon the Bible verse exposed on the surface of what he called "heart-shaped" Bible fused to steel.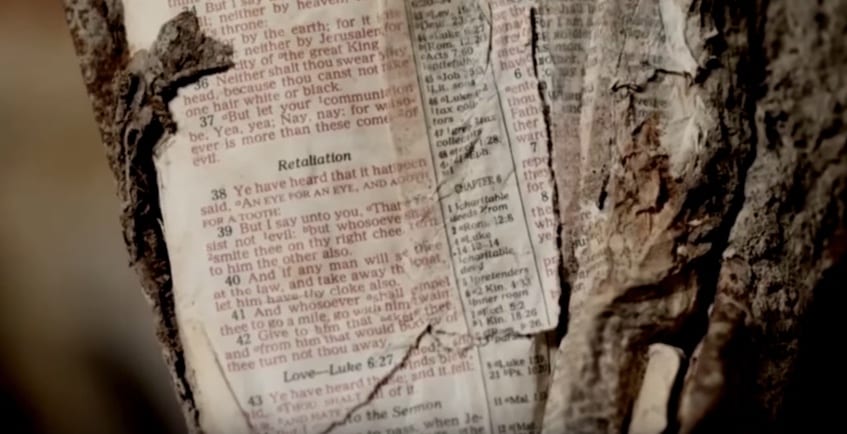 Of all the books, chapters, and verses in the Bible, the Bible was open to the book of Matthew, revealing Jesus' Sermon on the Mount and specifically a section titled "Retaliation" was Matthew 5:38-39: