One day in February of 2012, Ashley, now 14 years old, asked to stay the night at a friend's house for a birthday slumber party. Her stepfather and I, of course, said okay. We had met the girl once before and she lived only a five-minute walk behind our house. There were five girls going to be at this slumber party and Ashley was so ecstatic to have been invited. Prior to this event, she had only attended family slumber parties, so this was a big deal for her.
The day of the slumber party arrived on a beautiful Saturday. I remember Ashley was extra bubbly that morning. She took time and braided her little 9-year-old sister's hair. I remember her taking a selfie, holding in her tummy from a side angle. She was happy because she had lost a few pounds she had been working hard at losing. When approximately 2 p.m. came around, Ashley said goodbye and we told her we loved her. We asked her to call and check in with us at 6:00 p.m. Her stepfather said something like, 'Be careful. Don't do anything I wouldn't do.' And she was off walking to her friend's house.
When 6:00 p.m. came, Ashley called as we had planned. Everything seemed to be fine and we had no worries. That is until our phone rang and woke me from a deep sleep at approximately 10:30 p.m. It was a police office on the other end.
'Hello, is Ashley Long your daughter?'
'Yes, what's going on?'
'We are working on her and you need to meet us at the hospital in Medford.'
I was so confused. Medford was a town 15 minutes away from where I lived. What was Ashley doing there? She was supposed to be a five-minute walk behind our house. I had so many questions.
When we arrived at the hospital, we were directed and placed in a small, closed-off room to the side of the Emergency Room. It felt like a lifetime of waiting before a doctor and nurse, along with a grief counselor, came in and told me briefly that we had a serious situation and that my daughter had died. I collapsed in shock and my body went numb. Nothing would ever be the same.
The doctor said that Ashley had died from asphyxiation caused by inhaling Helium. This only further confused me because I had never heard of Helium being dangerous, let alone deadly. When the police showed up at the hospital, we were informed that Ashley had left our town of Eagle Point with the teens from the slumber party, and they were actually in Medford at the daughter-in-law's house of whom I thought Ashley was staying the night at. Apparently the mother of the birthday girl became too ill to host the party, so she asked her daughter-in-law to host instead without checking with the parents before. This would be the beginning of a tragic night full of mistakes made by both adults and minors.
Upon picking up the teens, the woman went to the local liquor store and purchased alcohol which she then gave to the teens while driving to Medford (this was the first time I ever heard of my daughter drinking). Once they were all at her house, she then proceeded to mix up more drinks for the five minors. During the night, she and the girls managed to leave the house and head down to the neighbors, bringing back with them three thirty-year-old men.
These men also began drinking with all of the minors. At some point in the night, one of the men looked into a closet and pulled out a Helium tank. At this point, he had Ashley and four of her friends together in a circle hanging with them. He then starts inhaling off the tank and one by one gets the teens inhale from the tank as well. Ashley is the last in the circle to try this and, according to her friends, Ashley was very hesitant to try it. She kept pulling her head away, but the man insisted it wouldn't hurt her. 'You'll be fine. All of your friends did it!' he reassured her.
Next, she gave in and inhaled the Helium before roaring with laughter at how funny her voice sounded. In the midst of her laughter, she collapsed to the floor. She never saw it coming. Nobody did. My daughter died doing the one thing I picture her doing most: laughing.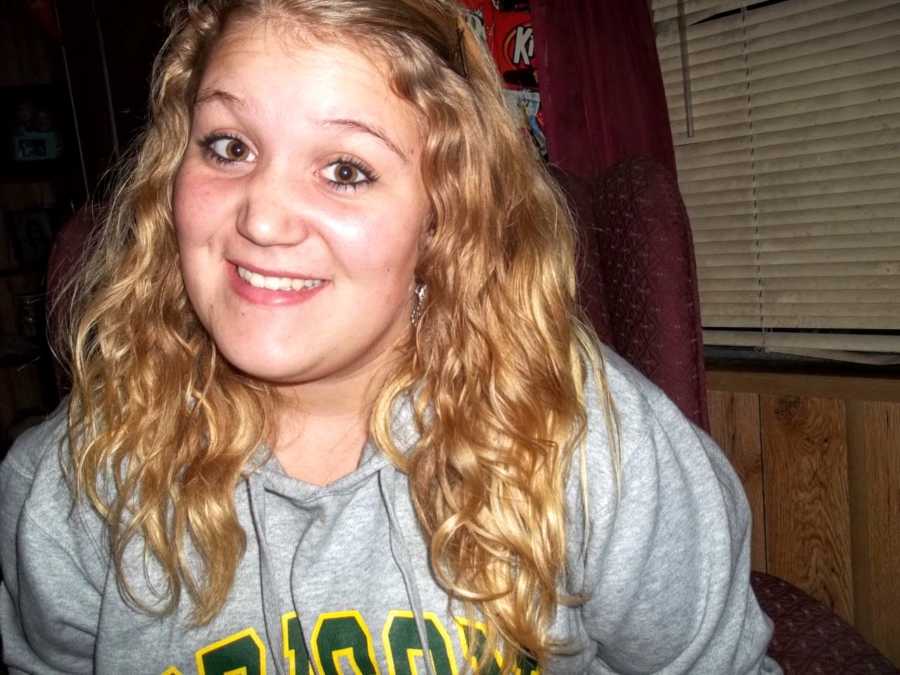 This devastated me and inspired to start raising awareness about the hidden dangers of helium. In Ashley's memory, I started a Helium Awareness Facebook Page as well as a Pinterest page showing the many ways to decorate events without using helium. I also worked with our local Parks and Recreation and was able to place a Memorial Bench in hopes of raising awareness in her memory. It is placed next to the playground and I have seen many families sit on it.