It's happened to all of us—you snap a pic and get ready to post it to social media, when suddenly you realize: Something doesn't belong.
That's what happened to this young couple just minutes after getting engaged.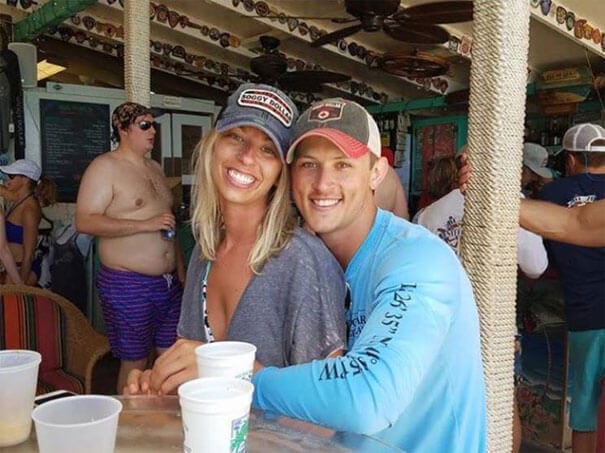 Over the moon with joy, they had someone take a photo of them to remember the proposal! The only problem was that just behind the picture-perfect couple's faces, was a shirtless man, who unintentionally photo-bombed them.
The now-bride-to-be's sister, Ashley, took to Facebook for some help photoshopping the shirtless man out of the photo. They understandably wanted to remember the proposal forever—without the company of said shirtless mate.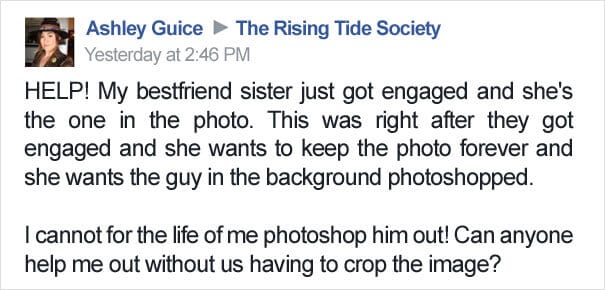 The Internet did NOT disappoint!
We have some true photoshop wizards among us ladies and gentleman. Be careful what you ask for.
---
Some users went the "Character" route:
Because what's a proposal without Mr. Bean dropping in?
Perhaps this user misread the request:
And this one just had a different vision in mind…
This one felt the opposite:
Some just know a true masterpiece when they see it:
And others thought the original photobomber wasn't enough:
Finally, someone got it just right…
Well, almost:
According to Bored Panda, the happy couple says they now want to invite their photobombing friend to the wedding!
Cheers to asking the Internet for help on that one!