YouTube
This year, A Night to Shine was held at more than 375 locations worldwide, in 11 different countries. Tim says it's his favorite night of the year.
On Wednesday night, Tim appeared on the Tonight Show where he and Jimmy Fallon talked about the success of the event. But that wasn't all he was there to do.
Tim had a special girl in the audience—Judy Adams.
Judy attended the Night to Shine event in New York this year, and even asked Tim to be her date. Due to a conflict in his schedule, he was unable to accommodate. But in true Tim Tebow fashion, he delivered something even better.
Tim invited Judy and her mom to come to the screening of the Tonight Show. Then during his interview with Jimmy, Tim turned toward Judy and asked her to dance with him—right there on the stage!
Judy's reaction was priceless, and Tim even had a corsage to put around her wrist!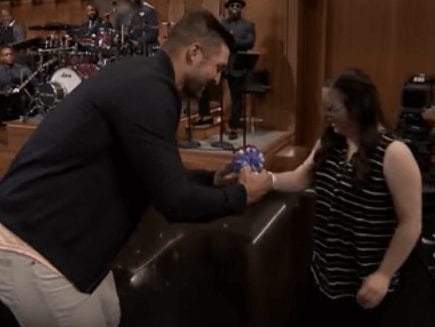 Just when we thought Tim Tebow couldn't be a better human and role model, he pulls a stunt like this and has us all "fighting allergies" at our desks at work.
So much respect for this incredible athlete who regularly demonstrates what it means to be the hands and feet of Jesus upon the earth.