Tim Allen has long been known for his comedic talents and family-focused programs. For years, fans watched the "tool man" on Home Improvement, making Tim Allen a household name.
These days, Allen has made a new name for himself as Mike Baxter, the "Outdoor Man," in his hit comedy Last Man Standing.
Despite six seasons of successful ratings, and a committed fan-base, ABC shocked everyone in May when the network decided to unexpectedly cancel Last Man Standing.
The hit conservative-comedy was ABC's anchor show on Friday nights. According to Deadline, which first reported the cancellation, Last Man Standing has routinely won its 8-8:30 p.m. time slot, with an average 6.4 million viewers weekly, and boosting viewership for the programs that follow.
Along with fans, Allen was acknowledgeably shocked by the announcement, tweeting:
"Stunned and blindsided by the network I called home for the last six years."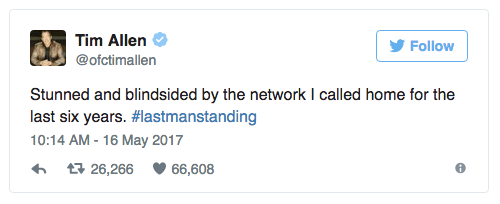 So why did the network cancel such a highly acclaimed fan-favorite?
Some suggest it's because of the strong conservative, traditional American and somewhat Christian values that have carried the show's popularity.
According to The Blaze, LMS "was among the only—if not the only—show on primetime television that espoused a more conservative worldview."
In the more left-wing world we live in, some believe the conservative-Christian themes were no longer welcomed by the network. But reports from ABC cited cost of production as well as Allen's salary as the main reasons for pulling the plug.
Though ABC is "home" to LMS, the program has been produced by 20th Century Fox. But after the sixth season, ABC is required by contract to take over production cost.
Since ABC's announcement in May, 20th Century Fox has been devoted to finding a new home for the sitcom.
Good news may be on the horizon for fans.
Pure Flix has made public comments suggesting interest in picking up the hit comedy, but there have been no further reports of discussion.
On Thursday, a close source told Fox News that Country Music Television (CMT), which already airs episodes of LMS in syndication along with Freeform and Netflix, was in "early talks" to pick up the show.
Just last year, CMT picked up another fan-favorite and ABC hit show Nashville after the network cancelled it last May.
Though producers are in talks with CMT, the source warned, "It feels like a long shot."
As a fan of the show and Tim Allen himself, I'm hopeful along with the millions of others following Last Man Standing's "re-homing" that things work out in Allen's favor.
Share this story with a LMS fan!