Harvest Christian Fellowship pastor Jarrid Wilson died by suicide on Monday evening (September 9) at age thirty.
The devout husband and father of two was known for his passionate preaching, servant's heart, and mental health advocacy. In fact, Wilson is the founder of Anthem of Hope, a faith-based organization 'dedicated to amplifying hope for those battling brokenness, depression, anxiety, self-harm, addiction and suicide.'
The tragic news of Wilson's untimely death comes on Suicide Awareness Day (September 10).
In alignment with his passion to shatter the stigma surrounding mental health, Wilson was often open about his own battles with depression on his social media accounts.
Wilson even posted about officiating a funeral for a woman who took her own life on the day that he took his own.
Later that afternoon, the pastor wrote some hard truth regarding the reality of mental health battles, citing that while Jesus isn't always "the cure," he IS always the "comforter" and "companion."
"Loving Jesus doesn't always cure suicidal thoughts," wrote Wilson. "Loving Jesus doesn't always cure depression. Loving Jesus doesn't always cure PTSD. Loving Jesus doesn't always cure anxiety. But that doesn't mean Jesus doesn't offer us companionship and comfort. He ALWAYS does that."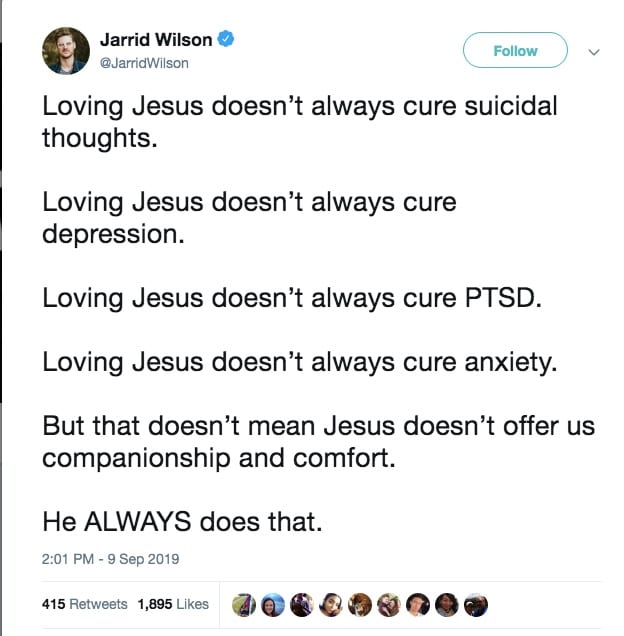 Jarrid's wife Juli posted a heartbreaking tribute to her late husband today, honoring his hard-fought battle and the great man of God that he was in spite of his struggles:
"My loving, giving, kind-hearted, encouraging, handsome, hilarious, give the shirt of his back husband went to be with Jesus late last night .

No more pain, my jerry, no more struggle. You are made complete and you are finally free. Suicide and depression fed you the worst lies, but you knew the truth of Jesus and I know you're by his side right this very second.

I love you forever, Thomas Jarrid Wilson, but I have to say that you being gone has completely ripped my heart out of my chest. You loved me and our boys relentlessly and we are forever grateful that i had YOU as a husband and a father to my boys."

"You are my forever and I will continue to let other people know of the hope in Jesus you found and spoke so boldly about.

Suicide doesn't get the last word. I won't let it. You always said 'Hope Gets the last word. Jesus does.' Your life's work has lead thousands to the feet of Jesus and your boldness to tell other about your struggle with anxiety and depression has helped so many other people feel like they weren't alone. YOU WERE an anthem of hope to everyone, baby, and I'll do my best to continue your legacy of love until my last breath.

I need you, jare. But you needed Jesus to hold you and I have to be okay with that. You are everything to me. Since the day we met. J & J. Love you more.
These are photos of him in his happy place – fishing the day away . I'll teach our boys all your tricks, babe. Promise. You are my #anthemofhope"
The church family Wilson left behind is just as devastated by the loss of their passionate leader who was on fire for Jesus.
"At a time like this, there are just no words," Harvest Administrative Pastor Paul Eaton said in a statement.
"Sometimes people may think that as pastors or spiritual leaders we are somehow above the pain and struggles of everyday people. We are the ones who are supposed to have all the answers. But we do not," Eaton added. "At the end of the day, pastors are just people who need to reach out to God for His help and strength, each and every day."
Please join us in praying for the Wilsons and the Harvest Christian Fellowship church family during this devastating time.
If you'd like to support others struggling with suicidal thoughts, consider donating to Anthem of Hope today.